Mom finds special way to honor her late son, 2018 FHS grad who took his life last March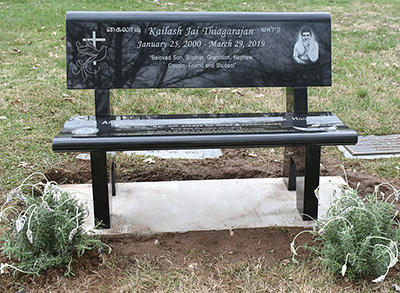 A grieving mother has created a tangible way to honor and remember the beloved son she lost to suicide almost exactly a year ago.

Kristina Thiagarajan personally designed a granite bench, which was placed in Pleasant Forest Cemetery Wednesday, March 18, in honor of her son, Kailash, better known as Kai, who died March 29, 2019, while a student at the University of Tennessee.

Kai was an honors student and student leader at Farragut High School and had graduated in 2018. He proudly served in many clubs — most notably as Student Government president from 2017 to 2018 — and also was a member of the FHS track and field team among his many accomplishments.

"I am very proud of Kai, and I miss him terribly," said Kristina, who is not alone in her grief, as Kai was one of several former or current FHS students who took their own lives over a two-year span.