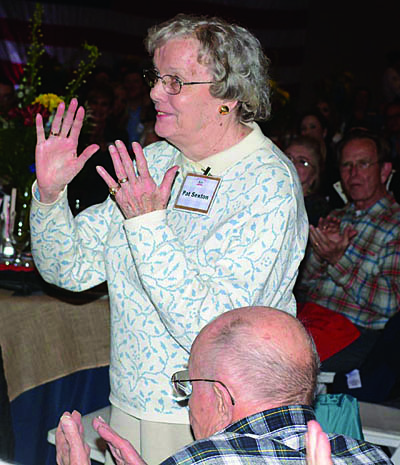 Pat Sexton was recognized with extended applause for being part of the first faculty at Tate's School in the late 1960s. That recognition came during "50 Years of Learning, Love & Laughter: Tate's Golden Anniversary Celebration" Saturday night, March 9, in "The Barn" auditorium on campus along Bob Gray Road in Cedar Bluff, Among those applauding was her husband, highly respected former Farragut High School basketball coach and teacher Lynn E. Sexton

KNOXVILLE — Before fully developing her appreciation for emergency first responders, Paula Tate-Gunter got a surprising "first response" from her mother, Lou L Tate, when seeking to become a teacher at Tate's School in Cedar Bluff.

After receiving her bachelor of arts degree in education from the University of Tennessee, "I thought I was going to teach here," Tate-Gunter said, knowing her mother was the founder of Tate's School in 1968.