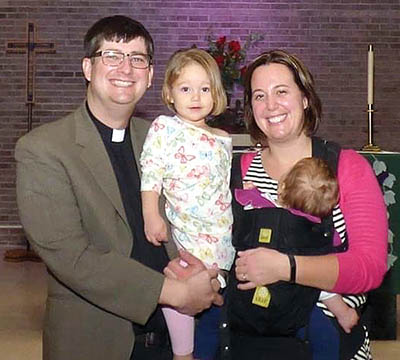 The Faith Lutheran Church congregation is welcoming a new "co-pastor" to the fold, the Rev. Daniel Forehand, starting Saturday, May 1, at the church, 225 Jamestowne Blvd. in Farragut.

Forehand will be sharing pastoring duties with current pastor, the Rev. Dr. Robert "Bob" Stelter, and will be installed during FLC's worship services at 9 and 11:11 a.m., Sunday, May 16.

Coming to Farragut was "a match made in Heaven," Forehand said. "We're looking forward to it.

"I hope to bring some energy, some excitement about how we can be a church in this new time" he added. "I think the pandemic has shown us that people crave community, but they also have found an online experience, where people can gather at will, (which) is also kind of exciting … so helping to kind of finally be able to do both online and in person.

"Most importantly, I hope I will bring a great love for God and a great love for the people of God, too. My ministry is, hopefully, centered in that gift of love we have received from Jesus."

"I'm excited for the community and the congregation to welcome Pastor Dan," Stelter said. "I know our congregation and the Farragut community will appreciate him. He's down to earth, friendly and a dedicated disciple of Christ.