Matriarch, age 96, helps celebrate school's 90th anniversary with great-grandson as a freshman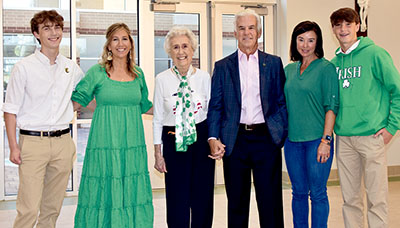 Knoxville Catholic High School kicked off its 90th anniversary last week by highlighting a family that now has its fourth generation attending the school.

KCHS Class of 1945 graduate Helen Marie Mabry Connor, now 96, along with her son, Mike Connor (Class of 1969) and granddaughter, Mandy Connor Welch (Class of 1998) were on campus Tuesday, Aug. 9, to welcome great-grandson, Connor Welch (Class of 2026), who was beginning his freshman year.

Connor not only is the first of the family's fourth generation to attend KCHS, but he also is the 29th family member to do so, said his aunt, Christy Connor Watkins (Class of 1989 and Helen's youngest child), who, along with her son, KCHS senior Patton Watkins, also was on hand to mark the occasion.

The group gathered at the West Knox County school's Fox Lonas campus in St. Gregory the Great Auditorium lobby — named Mike '69 & Carroll '72 Connor Lobby in honor of the family — for photos and to reminisce.

Helen, all smiles and still spry, noted she "attended the 'old school'" along Magnolia Avenue, as did her late husband, Joe Connor.

"It's where we met," she added.