FIS fourth-grader one of 64 selected for American Ninja Warrior Jr.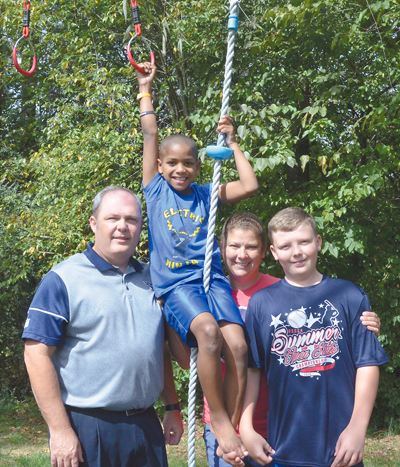 Enoch Jones spends a lot of time in his backyard, where he practices on American Ninja Warrior trademarked equipment installed by his father, Dr. Paul Jones, left. Also supporting Enoch's growing skills set are his mother, April, and his older brother, Parker.

A Farragut Intermediate School fourth-grader is putting his Ninja skills on the line on a newly-formed nationally-broadcast reality show.

Nine-year-old Enoch Jones was selected from more than 5,000 applicants to compete on American Ninja Warrior Jr. earlier this year, and traveled with his family to Los Angeles this summer, where the show was filmed.

The program is a spin-off of the wildly popular NBC show American Ninja Warrior, which in recent years has featured Knoxville-area athletes Grant McCartney and Mike Wright.

The Junior edition's episodes began its 20-episode weekly broadcast this past Saturday, Oct. 13, on the Universal Kids Network (Channel 325 on TDS). However, Enoch's parents, Dr. Paul and April Jones, have not yet been informed when his episode will run.