Farragut dancers prepare for 'Joan of Arc' ballet in Bijou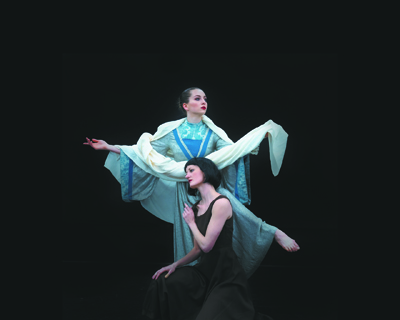 Harper Addison as Joan of Arc, in front, with Micah McKee, who will dance the role of the Madonna in Fouquet's painting "Virgin and Child" as it comes to life in "Jehanne ... the Story of Joan of Arc."

Dubbed in a press release as "a one-of-a kind ballet," which will "capture the intensity, conflict and resolve of this medieval teenager," "Jehanne ... the Story of Joan of Arc" features several prominent roles performed by young dancers from Farragut.

GO! Contemporary Dance Works, 1234 Rocky Hill Road in Knoxville, will conclude its 14th season with this full-length contemporary ballet, with Joan as "both maiden and warrior during a time of spiritual and political upheaval," Saturday and Sunday, Feb. 23-24, in Bijou Theatre along Gay Street in downtown Knoxville.

While the lead role of Joan is performed by Harper Addison, a professional dancer, nine dancers from Farragut are highlighted by feature roles from Kara Good, a senior at Farragut High School, and Micah McKee, a senior at Paideia Academy.