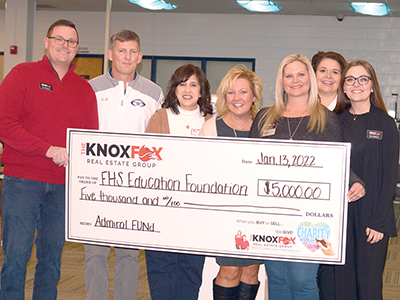 Farragut High School Education Foundation kicked off its Admiral FUNd campaign as it hosted Farragut West Knox Chamber of Commerce's networking in the school library Thursday, Jan. 13.

While FHS principal Dr. John Bartlett referred to student diversity and many academically gifted students at his school, FWKCC president/CEO Julie Blaylock said FHS was ranked by U.S. News & World Report as the 13th- ranked high school in Tennessee.

"But it keeps support to keep the high school performing at that level," she added.

"If you talk about comprehensive high schools — not magnet high schools — we're in the top five," Bartlett added. "We have 19 National Merit semifinalists this year."

He explained the Admiral FUNd is FHS's annual fundraiser, reaching out into the community to express its needs.

Last year the fund benefited the school's electives.

"We kicked off three different (Career and Technical Education) programs last year," he said. "They were construction, agriculture — ag science with a focus on small animal care and vet tech — and also engineering.

"I'm proud to say that we have enough demand for those three CTE programs that, if I had the funding for additional teachers, I could hire an additional teacher in each one of those three areas because we have enough kids who say they want those programs," Bartlett added.

To help jump-start this year's fundraising effort, The Knox Fox Group presented FHS with a $5,000 check toward the campaign.

"This is my third year being involved with the Education Foundation," said Eric Whitener, co-owner of The Knox Fox Real Estate Group with wife, Teri Jo Fox. "I've got to say, I'm really impressed with what the Education Foundation does for the high school.

"First of all, they look at every want and need that's presented to them," he added. "They determine if it's the best use of the funds and if it's going to impact the children, so they're very good stewards of the money that's presented to them, which makes me feel really good.