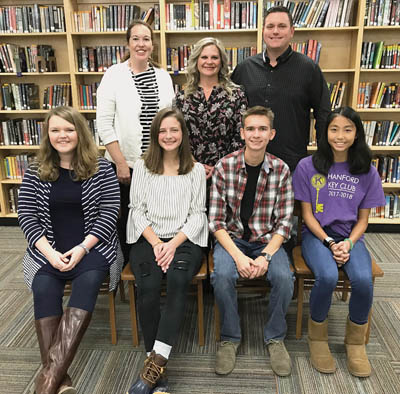 Farragut High School recently announced its November Stars of the Month. Seated, from left, are teacher Emily Brandel and students Avery Flatford, freshman; Alex Hensley, senior; and Cathy Hu, sophomore. (Not pictured is Gavin Wilkinson, junior). Back row, from left, are program sponsors Sarah Post of Patdome Promotions, and Teri Jo Fox and Eric Whitener of Fox and Whitener Crye-Leike Realtors.

Overcoming a physical challenge with a championship attitude, and cheerfully using your talents to help make your community a better place — qualities included in Farragut High School's November Stars of the Month.

Though freshman Avery Flatford has Cystic Fibrosis, "she is always very resilient upon returning to school from a procedure," Natalie Sisk, FHS science and wellness teacher, said about why she nominated Flatford.

"She never complains and does not like missing school. Avery works very hard academically and is always ready to participate on the days we are in the gym, whether it is the pacer or mile run.

"She is also a pitcher on the Farragut High School softball team and was the first softball player to receive the 'Team Boomer Female Athlete of the Year Award' last year. There is a reason she is called the 'Audacious Avery,'" Sisk added.