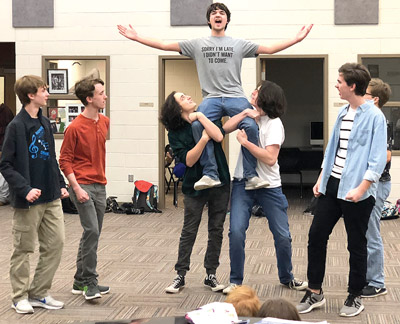 Hardin Valley musical theater students practice a dance routine for their upcoming production of "West Side Story," scheduled for April 27 through April 29, at HVA. On hand for the practice were from left, Chase Anderson, Max Anderson, Tristan Saidak, Alex Cole, Jakob Willen and Oliver Ediston.

Hardin Valley Academy's musical theater students are rumbling to bring "West Side Story" to the community.

The class will perform the musical, which is open to the public, at 7 p.m. Friday, April 27, and Saturday, April 28; and 3 p.m., Sunday, April 29, in the school auditorium, 11345 Hardin Valley Road.

Tickets are $10 for adults and $5 for students, and are available at the door.

About 100 students are involved in the production — from the orchestra to backstage and tech crews to the performers — said Teresa Scoggins, HVA choir director.

"[There are] around 60 on stage alone," she added.

Of those cast members, sophomore Cameron Roberts and senior Chloe Freeman have the lead roles as Tony and Maria. They are joined by junior Cole Lawrence, playing Bernardo; junior Grace Warnock as Anita; senior Max Fleischhaker as Riff; and junior Triston Saidak as Action.