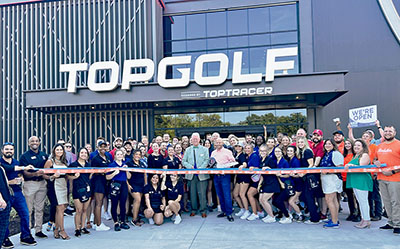 Topgolf, the long-awaited centerpiece for Farragut's specially-created Entertainment District along Outlet Drive, is officially open for business.

The global entertainment venue had a "soft" opening beginning Monday, Aug. 8, culminating in a grand opening and ribbon cutting Friday morning, Aug. 12, in Farragut Crossing.

"We had a chance to work out a few kinks," Topgolf Knoxville's director of operations Mark Grenier said of the days leading up to Friday's event, which brought together Town, county and state elected officials along with representatives from both the Farragut West Knox Chamber of Commerce and the Knoxville Chamber hosting simultaneous ribbon cuttings.

"We are so excited to see Topgolf opening, offering a place to play golf rain or shine," FWKCC president/CEO Julie Blaylock said.

"Lets try to set a record," Grenier said as the group exited the lobby, making way to the exterior of the $20 million building.

An attempt definitely was made as dozens crowded together for the ribbon cuttings — including many Topgolf staff members, which altogether number more than 400.

Friday's ribbon cutting and celebration was the culmination of "many people working together to make it happen," Farragut Mayor Ron Williams said.