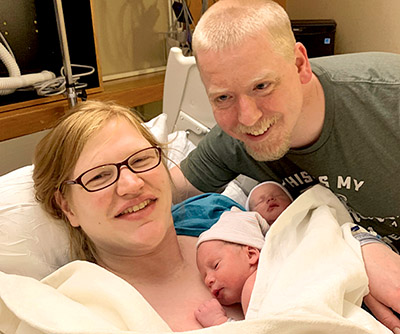 Two babies in the Pacific Northwest — whose births were facilitated by the National Embryo Donation Center in Farragut — have made history with their arrivals.

Siblings Lydia Ann and Timothy Ronald, children of Philip and Rachel Ridgeway, each spent nearly 30 years as embryos frozen in liquid nitrogen prior to being thawed earlier this year, according to an NEDC press release.

"When they were born Oct. 31, 2022, they set the new known record for the longest-frozen embryos to ever result in a successful live birth, according to research staff at the University of Tennessee Preston Medical Library," the release stated.

The embryos originally were frozen on April 22, 1992. Laboratory supervisor and senior embryologist Sarah Atkinson, of NEDC's Partner Medical Clinic Southeastern Fertility (also located in Farragut), thawed the embryos Feb. 28. Southeastern Fertility medical director Dr. John David Gordon transferred them to Rachel's uterus on March 2.

The Ridgeways' births of twins frozen for essentially three decades (29 years, 10 months) breaks the previous record set by another NEDC couple, Tina and Ben Gibson, of more than 27 years.