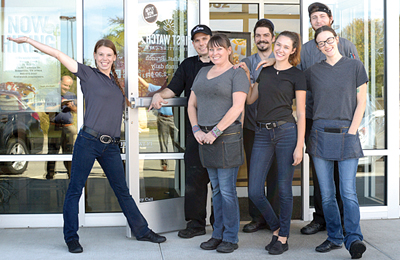 First Watch general manager Rhonda Eades, left, leads the restaurant's team, from left, Cory King, Andi Rogers, Dakota Pepper, Jamie Breslin, Meagan Coulter and Leonard Ogle, in welcoming the community to First Watch, 11682 Parkside Drive in Turkey Creek, as it celebrates its fifth anniversary. It opened Oct. 21, 2013.

As a thank-you to the community, which has supported it for the last five years, a Turkey Creek restaurant is holding a week-long fundraiser to help give a little something in return.

First Watch opened at 11682 Parkside Drive on Oct. 21, 2013, and was the first location for Knoxville-based franchise group, Capstone Concepts, LLC,

Now, Capstone is about to open its eighth location.

"It's been an awesome journey," said Nadim Jubran, marketing and business development manager for Capstone Concepts, LLC. "We're very thankful for this community."

So to celebrate that milestone, Capstone Concepts, LLC, is helping to raise funds for a stage at Founders Park at Campbell Station.

First Watch will be collecting donations Sunday Oct. 21, through Sunday, Oct. 28, and will match up to $5,000 in donations toward the project.