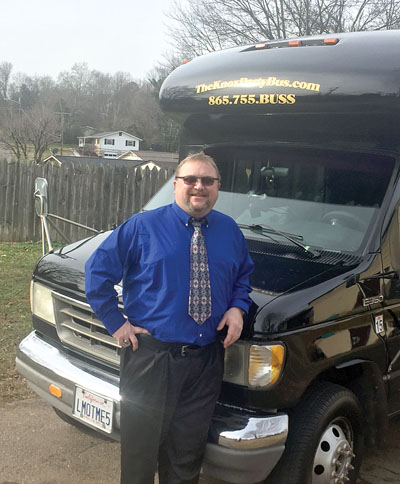 Former school bus driver Greg Penner has found a real niche for himself driving The Knox Party Bus — co-owned by his wife, Melinda Penner — that combines his prior work experience with a longtime love of music.

Greg Penner knows two things really well: music and transportation.

Now the Farragut High School graduate (Class of 1984) can combine the two with The Knox Party Bus, a new business he and his wife, Melinda Penner, recently started.

As the name implies, The Knox Party Bus provides transportation for up to 18 revelers who want to safely enjoy themselves, be it a birthday party, wedding, bridal shower or just a night out.

Additionally, the bus is decked out with multi-colored interior lighting, a 46-inch big screen television, a wide variety of CDs and DVDs from which to choose and even dance poles for those who want to "get down."

While the venture may seem geared toward more adult-types of fun, The Knox Party Bus is "really about families and people being together and making memories," stated the West Knox County couple on the business's Facebook Page.