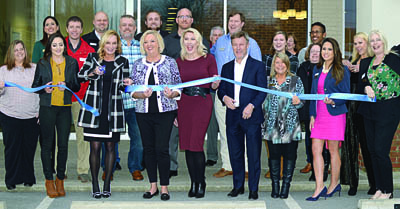 Farragut West Knox Chamber of Commerce hosted a ribbon cutting Tuesday, Feb. 19, for the expansion of Prestigious Properties, 10820 Kingston Pike in Century Plaza. Those pictured include broker/owner Lauren Toole (with scissors) and, in no order, office manager Regina Eubanks and agents Jason Parker, Stephanie Hatch and Michele Doghello. Also pictured, in no order, are Josh Hemphill of Josh Hemphill State Farm, Chris Burleson of American Mortgage and Troy Brown of Foothills Title who are joined by various FWKCC members and business supporters.

Prestigious Properties, 10820 Kingston Pike, has moved into a new suite to expand its space and offer more services to its clients.

Laura Toole, broker/owner of Prestigious Properties, has moved from Suite 24 to Suite 9 in Century Plaza, directly in front of her former suite, allowing her 1,500 more square feet of space.

"I've hired on more agents and then partnered up with other businesses," she said. "So, I needed more space and I wanted road frontage, and having a name like Prestigious Properties, you need to have an office space that is prestigious."

Toole added the move helped her tremendously.