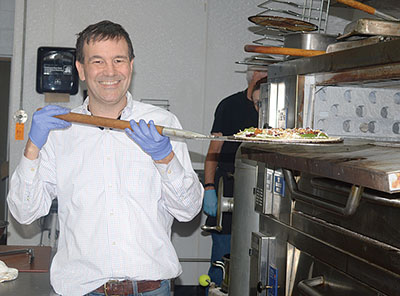 After being closed for six years from its Northshore Drive location, Travis Redmon has re-opened The Pizza Kitchen at a new site in the former Empire Pizza in Lovell Heights shopping center, offering a gourmet flair of New York-style pizza.

The Pizza Kitchen is back with a new location near Farragut.

Owner Travis Redmon opened the business Oct. 21 at the former Empire Pizza location, 10420 Kingston Pike in Lovell Heights shopping center just east of Town limits.

"It's been fun to see former customers rediscover us," he said.

The restaurant offers pizzas more on the gourmet spectrum.

"It's the New York-style with flair," Redmon said. "We have your basics, from pepperoni and Mama Mia, which would almost be like a supreme, to off-the-grid items, which would be like a Thai pie, which is a peanut sauce-based pizza — it's incredible. We also have the pesto swirl, which is (in our) top three favorites.

"So, we mix up the classics, with some off-the-grid items people love," he added. "We've got a pumpkin pizza right now that's our special."

The Pizza Kitchen's fare also leans more toward a healthier choice.