Mahar, Skinner among survivors honored, victims mourned at 1st fundraiser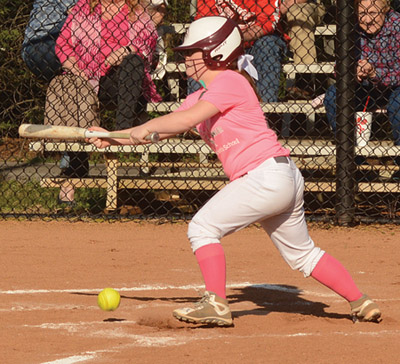 Cancer survivor Kylie Mahar, CCS sophomore second baseman, tries to bunt for a base hit versus Webb.

KNOXVILLE — A former victim of leukemia as a small child, now several years in remission while a teenage student-athlete at Concord Christian School, and a Webb School of Knoxville student-athlete who has lost several family members to cancer, were two reasons for inaugural StrikeOut Cancer Game.

Webb softball hosted this fundraiser, which was inspired by Lady Spartans head coach Dodie Montgomery, as her team entertained the CCS Lady Lions Thursday afternoon, April 12.

While Concord Christian won this Division II District 1A game 13-3 in five innings — only the second victory in program history — both teams celebrated triumphs against cancer, which included Webb assistant coach Susie Skinner (wife of Ralph Skinner, Farragut Baseball's "Voice of the Admirals"). She is seven years in remission from breast cancer.