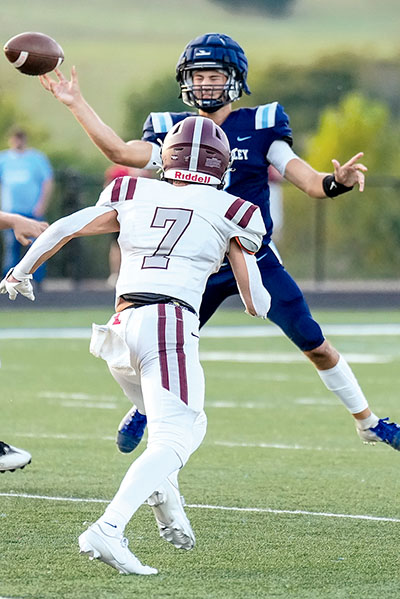 HARDIN VALLEY — Jayzon Thompson's and Drew Parrott's huge rushing games would have gotten even more attention, except for their buddies on defense who were just as impressive for Bearden during a Region 2-6A trip to Hardin Valley Academy Friday evening, Sept. 15.

Two early mistakes by the Bulldogs — a spectacular interception by Hawks senior defensive back Brady Miner — after catching his own deflection of a Drew Parrott pass in Bearden end zone for a HVA touchdown, and a fumble-turned-41-yard field goal by Nathan Holbrook had the home team up 9-7 with 3:41 left in the first quarter.

But the ground success of Thompson, sophomore running back, and Parrott, junior quarterback — plus a few others — was too much to contain, while BHS's defense proved smothering for most of the final three-plus quarters. The end result was a 41-9 Bulldogs victory.

Saying he had holes to run through, "especially the left side, Brody (Smith, sophomore offensive lineman), he was blocking good all night," Thompson said.