Defense, 3-point shooting allow FHS girls to surge past Jeff Co., win tourney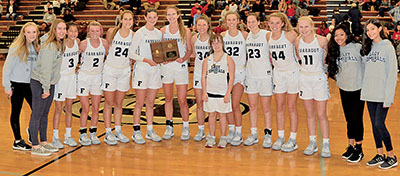 Jason Mayfield's Farragut Lady Admirals with their Reeder Chevrolet Farragut Thanksgiving Tournament championship plaque.

Struggling to crack Jefferson County's zone defense, Farragut saw the visiting Lady Patriots grab an eight-point second quarter lead and take a 19-14 advantage into halftime of this Reeder Chevrolet Farragut Thanksgiving Tournament title game in FHS's Lynn E. Sexton Gymnasium.

But intensifying its own defensive pressure after halftime, plus some hot three-point shooting, allowed the Lady Ads to take control and win the tourney title 42-33 Saturday night, Nov. 30.

Junior guard Macy Barnes scored a team-leading 12 points, all on three-point jumpers, helping keep Farragut unbeaten at 6-0.

"I knew I had to provide for my team. And that's what I do, I shoot," said Barnes, whose 16 points led the way in a 55-40 win against Fulton in opening round tourney play Monday, Nov. 25.