Down by 12, Farragut takes care of Hawks at HVA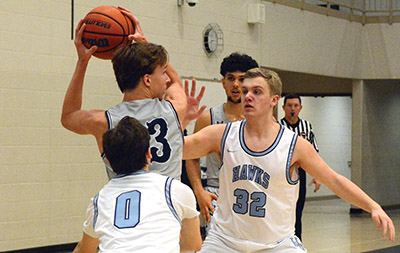 HARDIN VALLEY — As he watched his team endure its early share of offensive struggles, Farragut High School boys basketball head coach Jon Higgins didn't hit the panic button.

The Admirals fell behind by 11 points early, but they persevered and notched a 69-61 District 4-AAA victory over rival Hardin Valley Academy Friday night, Jan. 15, at HVA.

"Even when we were down, I thought our pressure defense was pretty good," Higgins said after his squad notched a comeback victory on the road and improved to 6-6 overall and 4-3 in the district. "We just weren't hitting shots."

The Admirals fell behind 28-17 late in the second quarter before scoring the last seven points of the first half.

From there, it was a rollercoaster ride until Farragut found its shooting touch over the final eight minutes of the contest. The game was knotted 49-49 heading into the fourth quarter before the Admirals got hot and used a 12-0 run to take a 61-49 lead when Dillon Atwell knocked down a 3-point shots with five minutes left in the game.