Pulling away late in the first half, Ads honor their ailing head coach, beat M-West 45-14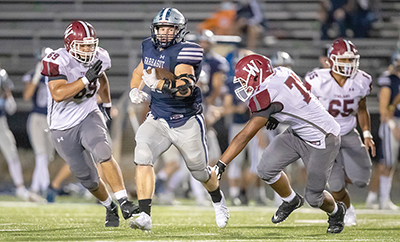 On a night when the Farragut High School football team didn't have its head coach, it did exactly what longtime head man Eddie Courtney would've loved to see. While Courtney was home recovering from prostate cancer surgery, his team notched a homecoming victory.

The Admirals scored early and often en route to nabbing a 45-14 victory over Morristown West in their Region 1-6A opener Friday night, Sept. 18, at Bill Clabo Field. (See related story on page 1A)

FHS (3-1 overall, 1-0 in the region) darted out to a fast start and took a 14-0 lead by first quarter's end, as junior quarterback Dawson Moore had a record-setting night.

Moore, who was making just his fourth career start, threw for a school record six touchdowns against the Trojans (2-1, 1-1).

Moore said the Ads took what the Trojans gave them.

"We started off running to see how it went, and we weren't really consistent with the running, so we went to the passing," said Moore, who went 13-for-21 for 321 yards through the air. "Obviously, there were a lot of holes open so we kept attacking, attacking and attacking until we couldn't anymore.