Extra-motivated by Nesbitt injury, Farragut goes on 28-0 run to beat Bearden for 20th time in last 23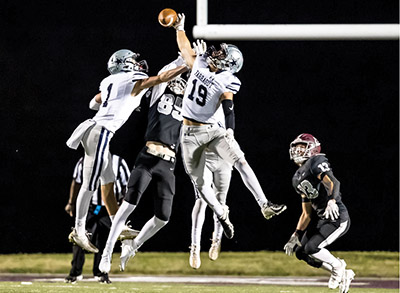 KNOXVILLE — As if Farragut needed any extra motivation to beat rival Bearden, a serious, high school-career-ending ankle injury to senior Trey Nesbitt, standout defensive end, late in the first half fueled several key Admirals with even more intensity.

The result was erasing a 17-17 tie midway into the third quarter, using kickoff field position, three second-half interceptions and a balanced offense to go on a 28-0 run for a 45-17 Region 1-6A win at BHS's Bill Young Field Friday night, Oct. 16.

"It really kind of pulled us together. ... When Trey went down, we knew how hard he works, we know what he stands for. It all kind of hit home for us: 'we've really got to show up for him'," said Eli Purcell, senior defensive leader at inside linebacker who had 10 total tackles, including four solo stops.

"We just tried to play the game for Trey," said Dawson Moore, Farragut junior quarterback who went 11 of 16 passing for 185 and four touchdown tosses.