FMS girls claim 2nd straight Knox tourney championship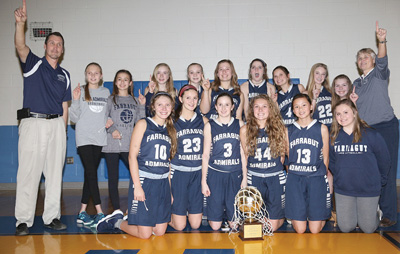 Farragut Middle School girls basketball celebrates yet another Knox County championship.

KNOXVILLE — Susan Davidson left Karns Middle School counting her blessings Thursday, Feb. 15.

"I just feel truly blessed to have had the opportunity to coach these girls for the last three years," Davidson said after her Farragut Middle School girls basketball team outlasted South-Doyle 30-26 to win the James A. Ivey Jr. Memorial Middle School Basketball Tournament, for a second straight season, in KMS's Thomas L. Duff Memorial Gymnasium.

"All of these eighth graders are special and we couldn't have done this without [assistant coach] Mike Henry. He's the inspiration to every girl on this team. He's the leader of our FCA chapter on campus."

When the second-seeded Lady Admirals posted its slim victory over the top-seeded Lady Cherokees, it not only marked Farragut's second consecutive tournament final, it also avenged a 43-42 regular season loss to South-Doyle in FMS's Bobby J. Henry Gymnasium.