Erasing 13-point 2nd-quarter Ads lead, HVA builds 15-point edge late, withstands rally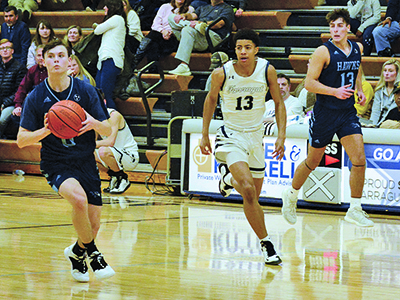 Tanner Granthan, Hardin Valley Academy junior point guard, looks to make a fastbreak feed as Hawks teammate Jack Niezgoda (13 in blue) and Farragut defender Elisha Brabson (13 in white) follow. Despite a late Admirals rally, HVA held on for a 69-63 win at FHS Friday, Jan. 17.

With Farragut Admirals skipper Jon Higgins saying "offense sets the tone for our defense," FHS built a 13-point second quarter lead against Hardin Valley Academy in a huge District 4-AAA rivalry game at home Friday night, Jan. 17.

Four 3-point baskets in the first quarter from junior wing Isaiah Smith, who ended with seven (23 points overall), fueled the Ads' fire, along with 10 points in the frame from senior guard Robby Geron.