FHS girls tennis team again reaches Division I-AA Sectional after controlling district, region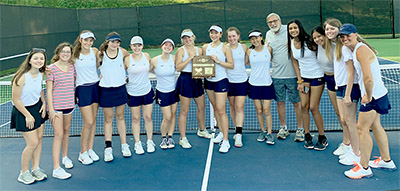 The achievements of Farragut High School's girls tennis team this season are numerous.

And very possibly not over.

After completing a perfect 12-0 District 4-AA record in the regular season, the Lady Admirals beat Bearden 5-0 to win the District Tournament Monday, May 9, at McFee Park in Farragut. Farragut then shut out West 5-0 to win the Regional Tournament at Tyson Park Wednesday, May 11.

The Regional win moved them into the Sectional round against perennial power Tennessee High — having beaten Farragut April 22 —Wednesday, May 18, at Tyson Park (after deadline).

"Tennessee High will be a very difficult match," said FHS first-year head coach Gordon Cassity, who coaches both boys and girls. "We had two matches that were really tight and could have gone either way. We feel like we have a good shot at them in the Sectionals."

A loss Wednesday shouldn't detract from Farragut's stellar season. The team is strong from top to bottom and hardly needs coaching, according to Cassity. Even better, he said, the girls' character outshines even their on-court skills.