FMS eighth-graders start successful business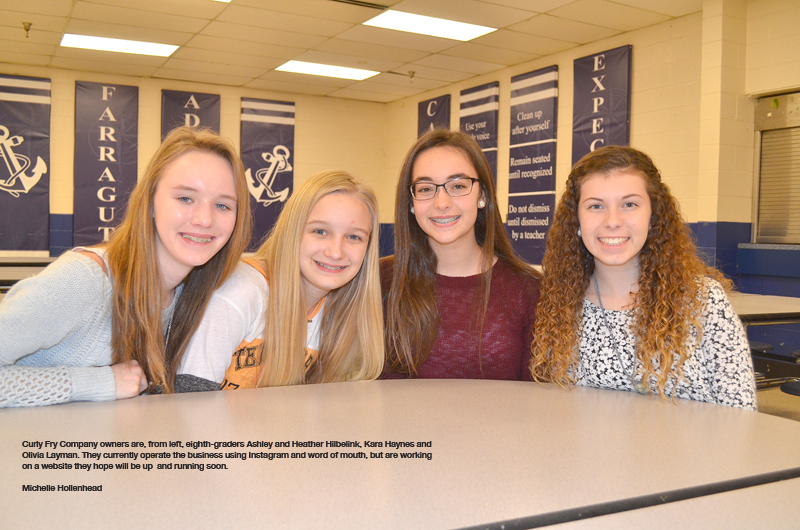 At an age when most girls' interests revolve around boys, makeup, hairstyles and clothing trends, four Farragut Middle School eighth-graders have instead rolled up their sleeves and gone to work.

Kara Haynes, Olivia Layman and sisters Heather and Ashley Hilbelink started their own business earlier this year, Curly Fry Company, and "have done pretty well," Olivia said.

They craft and sell handmade items, which include jewelry, jewelry boxes, specialized scarves and personalized phone cases.

After the girls agreed on the business concept earlier this year, Curly Fry Company – taken from Olivia's nickname — officially starting operating in August.

Since then, through word of mouth, manning a booth at the middle school's recent Christmas Bazaar and an Instagram page, the business has taken off.

"The Bazaar helped us a lot," Olivia said.
Each girl brings a different skills set to the collaboration. Olivia is considered "the crafty one" by the others, and has long found hand-making items to be "fun."

Her creations include macramé necklaces and bracelets, as well as using caulk-like Decodem to decorate phone cases and other items.

Heather and Ashley developed a keen interest in unique and antique jewelry, which they incorporate into earrings and other pieces. Their interests were piqued when old jewelry belonging to their grandparents was passed down.

"Even the broken pieces were interesting, and we wondered if we could use them somehow," Heather said. Their mother encouraged their interests by taking them to thrift stores in search of new inventory.

Kara's unique talents include wood burning, a technique she learned from her grandfather, which she uses to personalize and detail small wooden chests.

"It's not that hard, but it can be time-consuming," she said.

She also crochets a variety of scarves in an array of colors.

Much of what Curly Fry Company sells is pictured on its Instagram page. Customers can contact the girls through the site, and even special-order colors schemes and styles.

Prices are designed to fit most budgets, with items typically ranging from $3 to $6 for earrings, $8 for jewelry boxes, and up to $10 for necklaces.

The business has begun to proliferate.

Ashley said she recently saw a classmate wearing one of Curly Fry Company's unique designs.

"It was really cool because I didn't know she had bought anything," she said.

The girls are looking to expand even further, and are working on a website, which they hope will be up and running in early 2018.

For now, their products can be found at curly_fry_co on Instagram.