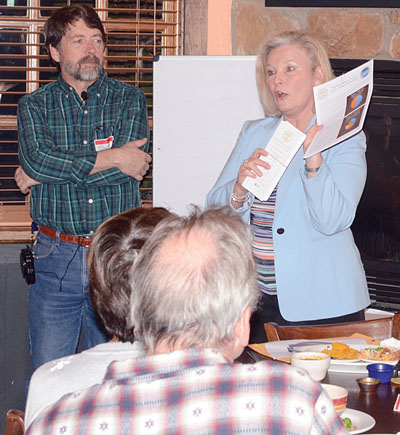 Showing charts detailing crime statistics is Charme P. Allen, District Attorney General for the 6th Judicial District of Tennessee (Knox County), during her address to 5th District Democrats Thursday night, Jan. 18. Brad Duckett, left, is 5DD Male Chair to Knox County Democratic Party.

Farragut Middle School and Farragut High School had juvenile gang members among their enrollments during the 2016-17 school year.

As for other Farragut citizens potentially in the midst of threats and abuse, given the Town has an above-average percentage of its population ages 65 and over, Charme P. Allen has sparked a redefinition of what constitutes elder abuse on both the Knox County and state levels.

Since being elected as district attorney general for the 6th Judicial District of Tennessee [Knox County] in 2014, Allen also said her office is dealing with a steep increase in murders in 2017.

Allen shared "scary" crime statistics — and what her office is doing about it —as featured speaker during 5th District Democrats monthly Thursday evening meeting Jan. 18 in Rosarita's Mexican Cantina off Lovell Road.

Saying she has 80 employees, including 41 attorneys, in her office, "When I took office I thought it was very important to focus on what I call units in the office: … a specialized group of prosecutors that do a particular crime," Allen said.

Creating an "Elder Abuse Unit" in her office, "We were first in the state to do that," she said. "I can tell you, in the last few years elder abuse has really become the hot topic."

Within Tennessee General Assembly was "a re-write of the Elder Abuse law. Nobody had updated the law since the early ''90s," Allen said. "We were instrumental in that rewrite."

As for the "numbers we've processed" concerning elder abuse in Knox County, Allen said, "in 2015 the unit processed 759 cases … in 2016, 939, and last year, 1152. … Not all those did we actually [file] charges on.

"Some of them are people who call in because they're concerned about their neighbor," she added. "We encourage people to call in."

However, "Of all the cases that have come in, we've been able to initiate 270 cases of prosecution," Allen said. "… That [elder abuse] prosecutor is overwhelmed, and I've just added another prosecutor to that unit."

Within its Child Abuse Unit, "We have three full-time prosecutors," she said.

In 2017, "There were 1,304 cases," Allen said. "The majority of child abuse cases are split between physical abuse and other types of abuse. … The majority are the other type of abuse; the physical [abuse] is a small number" in comparison.

"We have been very successful in that unit."

Its Domestic Violence Unit "has three full-time prosecutors, but it needs four. … It has more cases than any other unit in our office," Allen said. "… The majority of our victims are female; the majority are Caucasian; the majority are between 20 and 24 years of age."

Allen said "the typical domestic violence victim will start the process of leaving and taking out a warrant, but then back out [until the] seventh time. … There are tons and tons of reasons people don't follow through."

The office's term of "crime units" include Major Crimes Unit [two full-time prosecutors].

"We had more murders last year in Knox County than we've had in quite some time. … We had 39," Allen said. "That's a whole lot higher than previous years."

As for an explanation, "Drugs drive the vast majority of our crimes," Allen said, "From our shopliftings because people are stealing to get money to buy drugs, all the way up to home invasions. … and drug deals gone bad.

"What happens is people follow people home from the drug store," she added. "When you go have a prescription filled, be aware of who's around you because we've had lots of folks who get followed home."

Moreover, "Drugs are the No. 1 issue we're dealing with right now," Allen said. "Opioids — opioids are the main thing killing people.

"But I noticed a ton of methamphetamine indictments."

Career Gang Unit [four prosecutors] "is extremely busy" dealing with "over 1,500 gang members [in] 32 gangs" in Knox County, she said.

"Over a hundred kids that are not 18 yet; they are juveniles, but they are on the gang list in addition to the 1,500," Allen added.

"This is something that is really scary when you think about it. Year before last [2015-16 school year], we had an active gang member in every single public high school and public middle school in Knox County. Last school year we had one middle school that we didn't have a gang members in it."

Career Gang Unit also includes "career criminals," Allen said.

"She is the first female elected to this position in Knox County's history," Brad Duckett, 5DD male representative, said while introducing Allen.