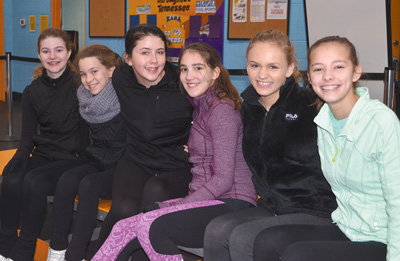 These pretty maids, all in a row, were waiting their turn. From left are Sarah Schmand, Cat Rivers, Ariah Lanum, Ashley Tacovelli, Aimee Wagner and Bonnie Dudley.

Cool Sports Home of the Icearium always offers a good time, but last month officials increased it's fun factor exponentially. In conjunction with January's designation as National Skating Month, beginner ice skating and hockey classes were offered free of charge Monday, Jan. 15, which coincided with the Rev. Dr. Martin Luther King Jr. Holiday.

According to skating director Marcia Little, 27 took part in the hockey class, 72 participated in the skating lessons, and "too many to count" attended a half-price freestyle skate session that afternoon.

For more photos from this event, please see Westside Faces in our print edition.