Farragut boys erase 15-point halftime deficit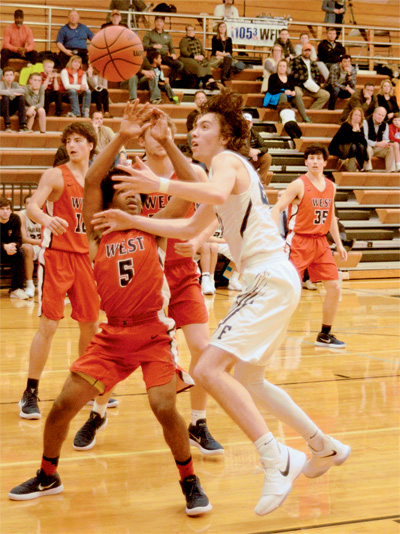 Tharrin Shuler, right, Farragut senoir post, battles Runnin' Rebels defender Xavier Davis for a loose ball.

Trailing West 38-23 at halftime and 40-29 early in the third quarter, Farragut used a 16-0 run to record what head coach Jon Higgins said was his team's most impressive come-from-behind win of the season.

Tied 54-54 late, two free throws from senior guard Chris Dalton with 1:44 to play gave FHS a two-point lead it would not relinquish Friday night, Feb. 2.

Dalton led four Admirals double-figures scorers with a team-high 13 points, as Farragut — despite missing two keys players out with concussions — won this District 4-AAA game 66-57 in FHS's Lynn E. Sexton Gymnasium.

The Admirals improved to 13-12 overall, 6-8 in district play.

With the Rebels knocking down eight three-point baskets in the first half, "I think in the first half we just weren't ready to play," Dalton said.

But holding the Runnin' Rebels scoreless for almost seven minutes in the second half, "we came out with a lot of fire and played better defensively as a team," he added.

"I thought our effort defensively wasn't very good in the first half. We weren't communicating very well," Higgins said. "We weren't closing out on the shooters, the guys that we know are shooters.

"We knew [No.] 24 [Charles Dupree, five three-point field goals, 15 points] and 15 [Jawain Moore, three 3-point baskets, 15 points] and 5 [Xavier Davis, seven points] could shoot the basketball," he added. "... And yet we still let them shoot open shots.

"I challenged them at halftime to get back to being 'us,' a gritty defensive team that's engaged and active and we're communicating and we can guard anybody," he added. "And that's what they did in that third quarter.

"It was the third quarter that won us this basketball game."

"Coach just wanted us to show more energy and be smarter with the ball. We just started running our offense like he taught us," said Tharrin Shuler, FHS senior post who scored 12 points.

Alec Keathley, Ads sophomore post, scored nine of his 11 points in the second half. "We just kind of slowed it down in the second half like coach said [to do]," he said. "In the first half we were a little fast. ... We just kind of threw up shots."

Trevion Moreno, Farragut senior post who scored 10 points, agressively went to the basket.

"I thought our post guys, in the second half, played wonderful: Tharrin, Trev and Alec," Higgins said. "... And Chris, Andy [Howell] and Ethan [Sherrill] took care of the basketball and made smart decisions." Sherrill, a senior, scored nine; Howell, a junior, had four.