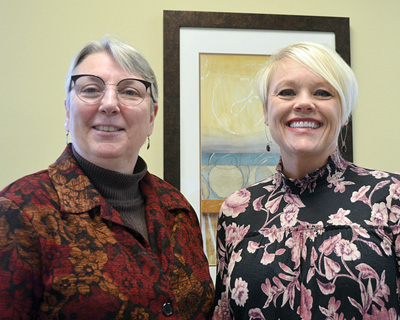 Care Around the Block LLC offers a more affordable method of non-medical care to neighborhoods throughout Farragut and West Knoxville. Elaine Wilson, left, is the program's director of outreach, and Pamela Reeves is manager of the program.

A local company is working to "re-imagine" non-medical personal care assistance, one neighborhood at a time.

Care Around the Block LLC, a sister company to Choices in Senior Care LLC, recently has launched in the Farragut and West Knoxville areas. It is offering specific neighborhoods task-based care assistance models of one to four 15-minute increments of assistance.

"For a fraction of the cost of traditional home care, we help you and your neighbors re-imagine personal care allowing [residents] to remain independent and in their homes," added Elaine Wilson, director of outreach for both companies.

CAB's model requires a minimum of four neighbors who need help with services that may include light housekeeping, help with personal grooming, pet walking, meal preparation and medication "minders," among others.

"This means if you have at least four neighbors who want personal care services, we will provide those services, assisting each neighbor with tasks on a set schedule of units throughout the day," explains Pamela Reeves, CAB manager.

"So, we will be there to help you only with the tasks with which you need assistance."

Providing shorter time spans of aid also means the cost will be more affordable.

Costs can start as low as $8 per 15-minute increments if the service is available in specific neighborhoods, and different pricing structures also will be available.

Providing this different level of care is part of "Aging Management," explained Reeves, who is a licensed Aging Life Care Associate.

"It is a new concept, and a lot of people don't have word recognition of what that means."

Typically, Aging Management is a different way of looking at assisting older individuals who don't need constant care to remain in their own homes, according to the National Council on Aging.

Choices in Senior Care, which offers traditional in-home care assistance ranging from four to 24 hours, would still be an option if clients show they need more help that CAB can provide.

"The CAB model is designed for folks who don't need someone for four hours at a time. But, if the client needs more time, they might be better suited for the more traditional by-the-hour service," Wilson said.

Reeves personally oversees all clients under the care of both companies, and visits them monthly. She also consults with each prospective client for both programs.

For more information, call 865-444-6787 or visit www.carearoundtheblock.com.