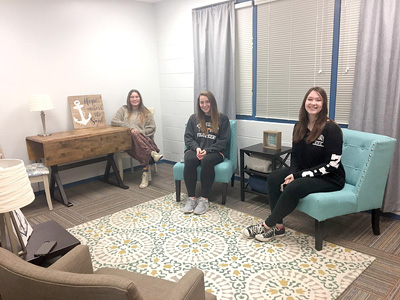 FHS students Katie Mixon, left, MacLaine Hullender, center, and Sasha Mcelveen helped design the Anchor Room at Farragut High School.

Interior decorators know that red is invigorating and blue is calming: rooms influence mood.

So when Farragut High School counselors realized they needed a special place to meet with students [and sometimes parents], they wanted to make the room warm and inviting.

The "Anchor Room" is the newest addition to FHS. It's complete with aqua chairs, tan chairs, gray curtains, an oversized rug and a wooden sign with a big anchor and the words "Hope anchors the Soul." If you didn't know you were in a counseling room, you'd think you were in a friend's living room.

"Our office is a very busy area where we meet academic, college/career, and social/emotional needs," counselor Andi Tenry said recently. "That's a lot of different moving parts that often involve some very hard conversations. Therefore, we saw a need for a more calming area where students can be uninterrupted for a short period before returning to class.

"Our counselors have been so fortunate that Movement Mortgage and First Baptist Concord have been so supportive," Tenry said. "They have donated the supplies we have needed — and delivered them. They even brought the Leadership Class lunch one day because they worked through their lunches for the awareness campaign. The response from the community has been amazing."

Also interested in becoming involved is Christ Covenant Presbyterian Church in Farragut.

"We're looking forward to the opportunity to work alongside of First Baptist Concord and Farragut High School toward this exciting initiative," said Andy Pifer, director of community services at Christ Covenant.

"When Principal [Ryan] Siebe started at FHS last year, he asked each department what it would take for Farragut to become a 'world-class' school," Tenry said. "For the first time, it prompted us to think about goals without checking a budget," she said. "We collaborated and wrote out our vision."

"We send out a needs assessment to our families every year and we take the responses very seriously," Tenry said. "We are constantly working and adapting to meet the needs of our students. The feedback from the needs assessment last year made it clear that addressing mental health was a priority, so that is what really set things in motion."

Tenry said the counseling office has a 'big picture' plan that includes several different pieces. Part of the plan is a monthly awareness theme correlating with the Mental Health 101 classroom lesson that students received at the beginning of the year. The goal is to continue the discussion about mental health and coping strategies.

In September, teachers and students completed ribbons that said "I live for … ."

"It was inspiring to see the students' completed ribbons all around campus," Tenry said.

"Our leadership students also made tons of ribbons for students to wear for our 'Wear Purple or Teal Day,' with purple and teal representing the National Suicide Prevention colors. We had a 'Stress Less Day' in October, where students could color and just sort of hang out and get to know their counselors better. In December our Choral Ensemble worked in conjunction with projectU, our librarians, FBC and the Leadership class to put on a holiday concert. Free hot chocolate was handed out with educational coping strategies while Choral Ensemble put on times cards and screen-printing. Chorus put on the holiday concert. National Honor Society came to us and asked how they could help. Our peer tutoring students have given their time as well. Our secretaries and administration have all said, 'We want to help; tell us what we can do.' And the same goes for Movement Mortgage and FBC.

"I think they see we are doing good things and they just want to help us make that good happen. It's been very moving to see so many people join with us in these efforts. I've cried happy tears many times this semester."

"We recognize that the health of the school is directly tied to the health of the community," said FBC staff member Sarah Scheafnocker. "If we work toward a healthier school, we are impacting all those families. We've been doing things to show appreciation and care for the staff for probably the last two years by providing a meal or bringing in a special treat."

"The steps we are taking now are part of that world-class mission," Tenry said. "We've been able to make so much of it happen because of the generosity of our community. We have not gone out and asked for donations, but we aren't finished with our mission.

"Our dreams of what we envision our school being are big and, just like the campaign and Anchor Room of this semester, they couldn't have happened without the help of our neighbors," she added.