Aqua Hawks 3rd in girls, 4th overall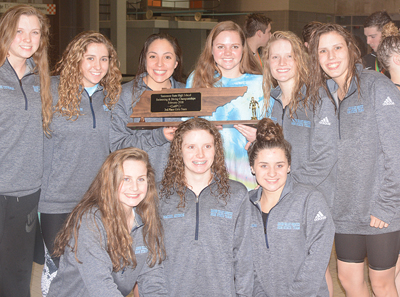 Hardin Valley Academy girls swim and dive team members accept their third-place Tennessee State High School Swimming & Diving Championship trophy.

KNOXVILLE — The 2018 Tennessee State High School Swimming & Diving Championship produced a pair of Farragut area top-five finishers.

Hardin Valley Academy was the top local finisher on the girls side, third, and as a combined team, fourth, after two days of swimming and diving competition ending Saturday, Feb. 10, in Allan Jones Aquatics Center on the University of Tennessee campus.

Larry Hough, Hardin Valley head coach, was named state Girls Coach of the Year Saturday.

The Bearden Aqua Dawgs boys of head coach Justin Baxter finished fifth — sixth overall.

"We have a really strong girls team. … We're really proud of what our girls accomplished — and our boys, too," Hough said. "I think to be the fourth best [combined] team in the state is pretty good.

"We knew the Baylor girls [overall team champs] and the Harpeth Hall girls [gender state champs] would be really tough. I think Maryville [No. 2 overall] and Bearden also had a really good weekend," he added.

"Carissa Armijo had some really good swims," which included third in the 200-IM [2:03.23], he said. "Emily Aycock, Rachel Aycock, Abby Aycock — the girls who have been carrying us all year."

Armijo, Emily Aycock, Kylie Cutcher and Abbey Aycock finished third in 200-free relay [1:37.14], Armijo and the three Aycocks, anchored by Rachel, also finished third in the 400-free [3:28.49].

Highlighting Saturday's BHS swimming finals, "We won the men's 200-free relay," Baxter said about the foursome of Caleb Harrington, Noah Smith, Brooks Maupin and Luke Brice [1:26.09]. "It was a pleasant surprise."

Individually, Harrington won the 50-free [20.37] and 100-butterfly [48.36]. "Caleb had just another outstanding night, and so did Luke — he anchored our 200-free relay," Baxter said about both seniors.

Bearden's Laurel Smith finished third in girls 1-meter diving.

Webb School of Knoxville boys finished 10th, led by Jack Hamilton's third-place finish in the 200-IM [1:52.68].

The Webb Lady Spartans claimed 15th place [12th combined].

Farragut's boys finished 22nd.

Farragut's Lady Admirals scored 10 points, which included seven from Melanie Moczaldo who finished 10th in 100-butterfly [57:32] and 16th in 100-backstroke [1 point]. Two came from Haley Whitt, 15th in 1-meter diving.

Admiral Julian Nosarzewski claimed ninth in 100-breastroke. Devon Collins finished 11th in 100-backstroke. The FHS 200-medley relay team claimed 12th place.

John Murtha of FHS was 16th in men's 1-meter diving.