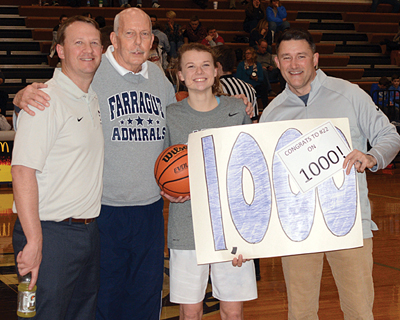 Morgan Carbaugh, Farragut junior, is recognized for reaching the 1,000 career point total Wednesday night, Feb. 7, versus Heritage in Lynn E. Sexton Gymnasium. The ceremony came between the first and second quarters of the boys varsity game. From left are Jason Mayfield, girls head coach; Donald Dodgen, athletic director, and Ryan Siebe, principal.

One healthy Farragut Lady Admiral, a junior, reached a personal offensive milestone most senior high school basketball players never reach: 1,000-plus career points.

Another not-as-healthy Lady Ad, a senior who missed two entire seasons with a right knee twice damaged, inspired FHS with gutsy determination.

Keayonna Bourne's tough defense, along with seven second-half points, sparked Farragut's fourth-quarter rally to beat Heritage 43-38 Wednesday, Feb. 7, on Farragut Senior Night in Lynn E. Sexton Gymnasium.

"Keayonna Bourne's and Sydney Chapman's defense was absolutely amazing tonight," said Morgan Carbaugh, junior wing whose fourth-quarter free throw gave her 1,000 career points as part of a game-high 18. "They had ball pressure and they had the steals, and obviously turned it into offense.

"Definitely a great defensive effort from those two, and collectively all of us," she added.

While the personal milestone "feels good, obviously," Carbaugh added, "I'm more happy about our win today against Heritage, personally, and 'Kikki's' Senior Night."

Missing her entire sophomore and junior seasons because "of two torn ACLs" in her right knee, "it kind of still affects me to this day," Bourne said about the slow recovery.

"But as you saw tonight, I try to fight through it," she added.

Looking back, "It's frustrating — but it could be worse," Bourne said. "I could have never been able to play again. ... Now I'm grateful to have the opportunity to come out and help them with my presence."

"Her injury just keeps creeping up, but as you could see tonight she just went out there and battled," Lady Ads skipper Jason Mayfield said. "We lack that sometimes when she's not in the lineup. She provides that for us — that intensity and that tenacity and being a competitor."

About Carbaugh's 1,000-plus points, "It was a good achievement for Morgan," Mayfield said. "We don't talk a lot about individual achievements, but not many people who play high school basketball get to 1,000 points."

As for other Lady Ads, "I thought Claire [Wyatt] made some big shots," Mayfield said about Wyatt's seven second-half points. "Kind of got us started there by making a three[-point basket].

"I thought Madison Hodge did a lot of good things for us," he added about the FHS sophomore point guard, who scored four. "She was a difference-make; she could get to the rim any time she wanted. Really playing confident."

Brooke Christian scored three.

The Lady Admirals, the No. 6 seed in the District 4-AAA Tournament, which began this week at Lenoir City, end regular season play 13-13 overall, 8-8 in district.

Farragut played the host LCHS Lady Panthers, No. 7, in a tourney elimination game Tuesday night, Feb. 13, after deadline.