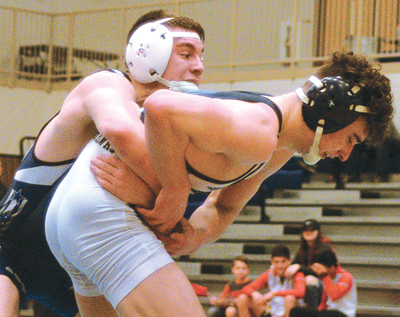 Senior Admiral Devin Martin has a grip on HVA's Tyler Hemry in the 132-finals. Martin won an 11-7 decision to claim a region crown.

HARDIN VALLEY — Tyler McKeefery won a third consecutive regional wrestling championship Saturday, Feb. 10, earning the junior a trip to the Class AAA State Wrestling Championships for a third straight season.

And this time, he's hoping to leave Franklin with a medal.

"This is my third region championship and I'm looking forward to going to state," said McKeefery, Farragut High School's 113-pounder who won the Region 3-AAA championship Saturday when he pinned Heritage's Zach Teaster in 2 minutes 36 seconds at Hardin Valley Academy. "I'm hoping to go down there and medal this year.

"I made it to the quarterfinals last year and I got beat," added McKeefery, 38-1 in 2017-18.

He'll be one of 21 Farragut-area wrestlers to compete in this week's state meet in Williamson County Ag Expo Center in Franklin. Tournament action begins today (Feb. 15).

He'll be joined by teammates Devin Martin, a senior who won the 132-pound region crown by defeating Hardin Valley's Tyler Hemry 11-7 in what was voted as the region's Outstanding Match.

Other Admirals are freshman Zach Garabrandt (region runner-up in the 120-pound class, 38-8); Chelsea Judy (a 119-pound sophomore) and Hailey Stevenson (junior at 125).

Admirals skipper Bobby Hampshire said he was pleased with his squad's effort Saturday.

"This is the best showing that we've had [at the region championships]," he said. "Tyler has really grown up. Devin has improved a ton and Zach made it to the region championship match as a freshman and that's big."

Martin, who will make his second state tournament appearance this week, outlasted Hemry and avenged last year's loss to the HVA senior. "He pinned me in the consolation final last year," said Martin, who will take a 38-5 record with him to Franklin. "I felt like I deserved this win."

Going 0-2 at state last year, "This year, I just want to medal," he said.

Meanwhile, HVA sophomore Josh Pietarila (152 pounds) claimed the region title, while being named Outstanding Wrestler in the Upper Weights, after he defeated Maryville's Alaeldin Gibril by fall in 1:18.

Pietarila (25-2) will make his second straight trip to Franklin. "I'm going down there this year and I feel like I can get the job done," he said. "It's a lot of pressure.

"But I think I can win it," Pietarila added.

Joining Pietarila and Hemry at state are Hawks Riley McNeal (fourth, 160); Marshall Murphy (third, 170), Keenan Sloan (runner-up, 220) and Dawson Hardesty (fourth, 285).

On the girls side, HVA's Kenya Sloan, a 160-pound senior, will seek a fourth straight girls state crown.

For Bearden, Kyle Burns (40-7 record at 138) and Max Grayson (39-2 at 170) both won region titles.

"It's been a pretty good year," Burns, a senior, said. "I've just been getting ready for state all year and I think I can win it."

As for Grayson, "I feel like I've done pretty well this year," the senior said. "But I haven't won state yet. When I win that, I can be happy."

Freshman 145-pounder Matheson Meade was runner-up in his bracket, while Nick Law (285) finished third. Dylan Burns (120) and Samuel Hensley (182) each finished fourth.

Knoxville Catholic's team was ravaged by the flu last week.

The Irish have a 25-man roster but only eight competed Saturday — four medaled: Bryce Miller (113), Gabe Hosford (152), Xavier Storey (195) and Alec Bindner (220) all finished fourth.