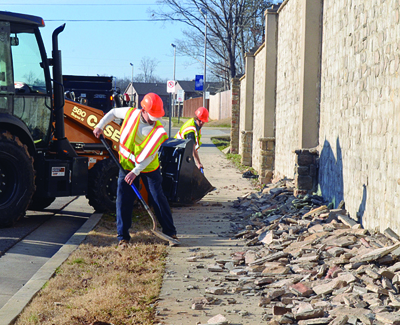 Town of Farragut Public Works employees Brian Shipley, front, and Scotty Burchfield are shown working last week to remove the façade on the North Campbell Station Road retaining wall. The wall's stone veneer slowly has been peeling off during the last year, and Town officials decided to forge ahead and remove the entire veneer while it still is being determined how to make the needed repairs.

Farragut residents unhappy with the appearance of the Campbell Station Road retaining wall should be pleased with current efforts to at least make the wall more presentable.

Public works employees have been removing the already crumbling stone veneer façade over the last two weeks, and according to public works director Bud McKelvey, the work should be finished this week.

"We had been removing the loose rock [as we found it], and [Town administrator David Smoak] said to just go ahead and take it all down.

"It has been sitting there looking ugly long enough," McKelvey added.

The stone overlay, which had covered the wall since its construction three years ago, had been peeling for some time, and has been a topic of consternation among Town officials —as well as Farragut residents.

Town officials have been in close contact with the previous contractor, as well as Tennessee Department of Transportation, to find a solution for replacing the façade. Previous reports have pinpointed the likely problem as having to do with the failure of the epoxy used to fasten the stone veneer to the wall itself.

With the most recent inspection of the wall, it was decided to remove the remainder of the façade instead of just waiting for more of it to fall.

"It was in no way a safety issue, but we decided to just remove the rest of it, while we continue to find a solution to the problem," Town engineer Darryl Smith stated in an e-mail.

It is unclear what the next step will be, but "at least it will look more uniform in the meantime," McKelvey said.