'State-of-the-art' baseball, fastpitch-softball training, practice facility now open near Lovell Road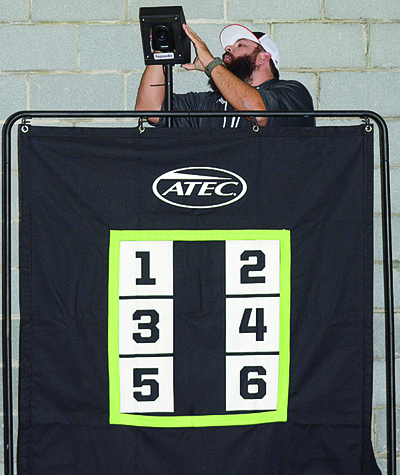 Travis Brummitt, owner/instructor at The Vault near Lovell Road, adjusts controls on the Rapsodo, a camera that gives velocity, spin-rate whether the given pitch is a ball or strike, he said.

Travis Brummitt's recently opened "state-of-the-art" baseball and fastpitch softball training and practice facility, The Vault, actually "started off as a hobby" to focus mainly on slow-pitch softball.

"It's because I play slow-pitch softball and there's nowhere for guys to hit softball," said Brummitt, a 6-foot-7 star pitcher at Farragut High School [Class of 1994] who went on pitch for the Tennessee Volunteers one season, then play briefly in the Atlanta Braves Minor League organization.

"It just kind of snowballed from there" to feature baseball and fast-pitch softball, he added about The Vault, 523 Lovell Road Suite 104, a roughly 5,000 square-foot facility that opened Nov. 6. "Teams wanted something smaller where they didn't have to have an affiliation."

Featuring "two full-sized batting cages and a lane for pitching" according to Brummitt, by the end of 2017 "We had 11 teams signed up, baseball and fast-pitch softball girls."

However, anyone can come in and, for a rental fee, use The Vault's facilities. Brummitt, assisted by his wife, Valerie Brummitt, also said he encourages baseball and softball instructors and coaches to accompany their students to The Vault.

As for features, the Rapsodo "is a camera that will tell you the velocity, spin-rate, ball or strike" from a pitcher, Brummitt said.

"There's an iPad app that will show you everything after every pitch, then you can record it, like a history, so you can go back into each pitcher's [information] over time and you can compare."

The Vault's Hit-Trax "is like virtual reality baseball, and you can do all kinds of stuff with it," Brummitt said about measuring a hitter's precise connection between bat and ball inside a batting cage. "It will show you exit velocity, launch angle, distance, stuff like that.

"This is also the training module where you can do hitting lessons with a video camera. It will video you; it breaks [your swing] down," he added. "It will do like slow-motion."

Whether you are in college, high school or a Little Leaguer, the machines and cameras can be adjusted to your level.

You can make reports out of trends that a young batter, for example, accomplishes in a day's workout.

Pointing to a report from the Hit-Trax, "This is the average of what they hit for that day of batting practice," Brummitt said.

Hit-Trax even factors in the average age-appropriate defense to judge the likelihood of base hits versus groundouts and fly outs, for example. "You can print out reports," he said. "It's a pretty neat machine. It's pretty crazy all the stuff you can do."

For example, Brummitt pointed out "an average 10[-and-under] defense" for factoring a 10-year-old or 9-year-old's hitting success.

To work on a given hitter's basic skills, Brummitt said it is better to do basic

"straight toss" pitching, with no stuff such as a curve or downward break on the pitch.

The Vault, however, does in fact feature a ProBatter pitching machine for its batting cages.

"It's like hitting off a live pitcher," Brummitt said. ProBatter combines a pitching machine with video of an actual pitcher in a wind-up through his release point to the batter — at the same point where the machine releases the ball toward the plate, Brummitt said.

"It can throw every pitch you can throw: fastball, curveball, slider — from both sides [left-handed and right-handed]," he added. "It also can be set to age-appropriate speeds up to professional baseball levels."

In addition, given his playing background, "I do pitching lessons," Brummitt said.

The Vault also is a location "for birthday parties," he said. "We're planning to do hitting leagues, home-run derbies. We're going to run some tournaments" using the machines to judge winners.

Looking back, "To get everything going has been a long process," Brummitt said. "It took us six to eight month to find the right building."

For more information, call 865-392-6336 or 865-406-5239, visit www.thevaulthc.com or e-mail info@thevaulthc.com/.