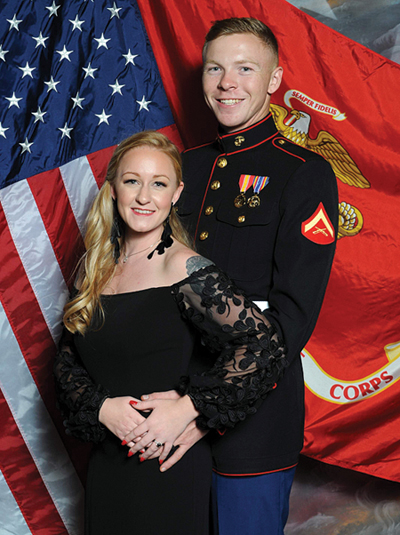 Kimberly Morgan Oliver gave her hand in marriage to Lance Cpl. Brandon Joseph Timmis, USMC, Wednesday, Nov. 1, 2017. Brandon and Kimberly were married in San Marcos, California by Justice of the Peace Constance Lisker.

Kimberly is the daughter of Daniel M. Oliver of Yardley, Pennsylvania, and Diane M. Drum of Bensalem, Pennsylvania. Her grandparents are the late Mr. and Mrs. Daniel Oliver of Yardley and Mr. and Mrs. Michael Drum of Chandler, Arizona.

She graduated from Bucks County Technical High School in 2014 and currently is a vehicle mechanic in Pennsylvania Army National Guard.

Brandon is the son of Bryan A. and Lori A. Timmis, and brother of Bradley Timmis, of Farragut. His grandparents are the Late Mr. Colin and Mrs. Sonia Timmis of Silver Spring, Maryland, and Mr. Kenneth R. Allgood and Mr. and Mrs. Larry and Phyllis Broadrick of Tullahoma.

Brandon graduated from Farragut High School in 2015 and currently is a Motor-T operator at Camp Pendleton, California. The couple reside in Temecula, California.

Brandon and Kimmy are planning a formal ceremony soon.