SJNCS student aspires to reach CubingUSA Nationals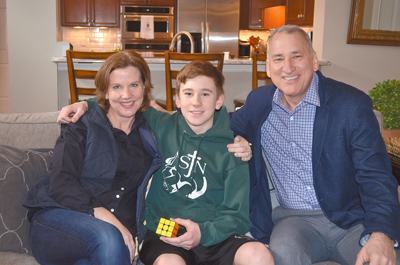 Rubik's Cube wiz and St. John Neumann Catholic School student Nick Gerkins at home with his parents, Trish and Jeff Gerkins.

While most of his peers likely are leveling up on video games, Nick Gerkins has taken an old-school approach and become a Rubik's Cube wizard with national aspirations.

The St. John Neumann Catholic School seventh-grader had never even picked up one of the 3-D puzzles until last year, and now has become so proficient he will take part in the three-day World Cube Association CubingUSA Nationals tournament in Salt Lake City, Utah, July 27-29.

The son of Farragut couple Jeff and Trish Gerkins, Nick first received a Rubik's Cube "almost exactly a year ago," his father said.

Nick took to it instantly and started watching YouTube videos and tutorials to learn how best to solve the cube. He became relatively consumed with the puzzle, practicing constantly, including during a family vacation drive to the Gulf Coast and back.

It was not the first time Nick has so passionately pursued a pastime.

"Nick has always had a 'thing' – juggling, card tricks," his mother said. "[At the offset], I figured this would be short lived, too."

However, Nick has remained completely preoccupied with learning new skills and shortening his solve time.

"There are different kinds of strategies and algorithms you can learn," he explained. "You [also] can learn other methods, and different series of moves.

"He is persistent," his mother said. "If he wants to do it, he will figure it out."

"It is really cool to have been able to see my times go down," Nick said. "It shows how much practicing pays off."

He said persistence is the main skill necessary to become proficient.

"You don't have to be smart," Nick said, "Its just about practice. Anyone can do it."

In addition to online methods, he began looking at other avenues to measure his progress.

With his own money, Nick purchased a Rubik's Cube timer mat, on which he practices constantly.

He also participated in regional contests to test his skills against real-life challengers, including one at the Hendersonville, North Carolina Apple Festival last year — and scored well.

"He likes to compete, and we [were glad to find out] he could compete in something he enjoyed," Trish Gerkins said.

Based on those solve times, the Gerkinses realized Nick qualified for the nationals by consulting the World Cubing Association's web site.

"We will let him compete and see how he does," said Jeff Gerkin, who is excited about his son's enthusiasm and drive.

"It is really fun to see your kid love what he does."

Currently, Nick's average is a little under 20 seconds, and his best time so far has been 13 seconds, he said.

He has other interests, too. He enjoys basketball, cross-country and track.

In the classroom, Nick's his favorite subjects are literature and English.

He has two older sisters, Sarah and Claire. While the family enjoys playing games together, the Rubik's Cube puzzles are Nick's alone.

What started as a hobby "has become like life to me now," Nick said. "I usually have a Rubik's Cube with me wherever I go.

"I am always learning something. .... As long as I'm learning, I'm happy," he added.