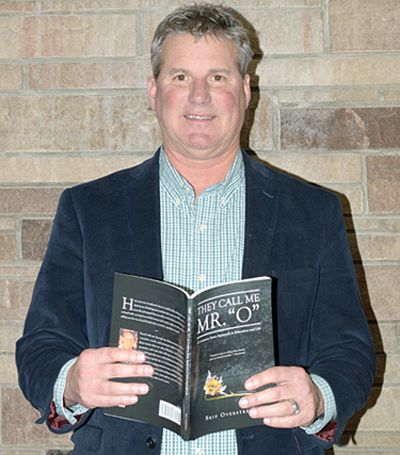 Skip Overstreet of Farragut with his first book, "They Call Me Mr. 'O.'"

Retired educator and principal Skip Overstreet of Farragut used his own experiences in problem solving as the basis for his first book, "They Call Me Mr. 'O' — A Common Sense Approach to Education and Life."

"It's a very easy read," Overstreet said about the book, published by Page Publishing. "The book is not really about education — that's what I did for 31 years — it's about stories and the common-sense approach on how you make tough decisions and how you deal with people."

Overstreet said he has been told the book isn't just for educators.

"Business people can learn from this," he added.

"It's got some funny stories; it's got some sad stories, but there's a lot of what I consider 'teachable moments.'

Since it came out, Overstreet said he has personally sold 100 books, but added he will not know the total number sold nationwide until the quarterly report is released in March.

"I don't know if everyone would agree with the book — I don't know if [they] should — but it worked for me," Overstreet said and laughed.

"I think if people — not just educators — read it and they see some of the tough decisions that you have to make — you've got to make them, and you've got to tell people why you're doing it," he added.

The title of the book originates from one of the stories in the book, and how he "got named Mr. O."

"It was a middle school student," he added.

Many of the books he personally sold were during presentations he gave to non-profit organizations and other groups. For instance, he's spoken at schools and will be speaking to Farragut Lions Club in February.

For 31 years, Overstreet said, "Education was my life. That's how I learned to do what I did, and it helped me."

A Putnam County native, Overstreet taught in Putnam County Schools, where he rose to assistant principal and athletic director at Cookeville High School. He then spent four years at Avery Trace Middle School, before taking the job as Lenoir City Elementary School principal.

"I was there for eight years," he said.

While there, he was named East Tennessee Principal of the Year in 2008.

In 2007, Overstreet moved from Maryville to Farragut. After he retired from education in 2013, Overstreet took about six months off before he went to work for Reno's Sporting Goods in Harriman — the owner and Overstreet attended college together.

"So, really, I was right back in the schools again," he said and laughed. "When I would go in and talk with the principals, I would talk to people.

"I met a lot of teachers in Knox County here [from] when I was selling sporting goods," Overstreet added. "When they know you have been a principal, they want to ask you every question in the world — 'what would you do in this instance?'

So, he would make suggestions, such as "You might want to try this."

They would come back with "You might want to write a book."

His wife then introduced him to Randy Carpenter, who had authored several books, and that meeting inspired Overstreet to write his own book, which is a short-story format.

"I [didn't] want it to be anything lengthy," he said.

The book took about five months to write. Overstreet started using another publishing company, which went out of business, before he found Page Publishing.

"Even though [getting published] took a lot of time, it wasn't that bad," he said.

The book came out in November 2017.

"They sent me 10 copies to the house for free," he recalled. "Boy, I'll tell you what — picking up a box and seeing this [showing the book], and knowing you're an author with a publishing company like Page — that's a pretty good feeling."

The book is available online at Amazon, Barnes & Noble, Apple iTunes and Google Play.

It also is available by calling Overstreet at 865-805-9218.