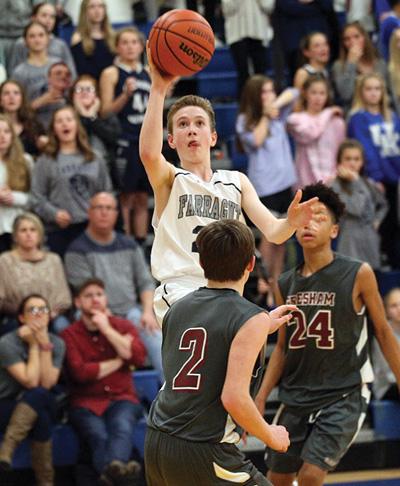 Dillon Atwood of Farragut puts up this one-handed shot in the face of Gresham defensive pressure during James A. Ivey Jr. Memorial Middle School Basketball Tournament championship game at Karns Middle School Thursday night, Feb. 15. The GMS Gladiators rallied late to win the crown 52-48.

KNOXVILLE — One thing was for certain when Farragut and Gresham played for the James A. Ivey Jr. Memorial Middle School Basketball Tournament Championship Thursday. Feb. 15.

Either the Admirals or the Gladiators were going to write a happy ending to a fairy tale season.

And on this night, it was Gresham that would finish off the Cinderella story.

The Gladiators walked off the floor of Karns Middle School's Thomas L. Duff Memorial Gymnasium with a 52-48 victory — and would cut down the nets. Gresham, which won its first-ever championship as a No. 9 seed, overcame a late deficit.

The seventh-seeded Admirals had a 48-41 lead after Isaiah Smith grabbed an offensive rebound and promptly put it through the basket with 1 minute, 36 seconds remaining.

The Gladiators (11-8), however, would score the final 11 points.

"This one really hurts," Admirals head coach Randy Swartzentruber said after his team missed a golden opportunity to complete a storybook ending of its own. "I don't think we let up.

"I'm proud of the way we played. Our kids really fought hard and they battled. We had success against [the Gladiators] during the regular season. But tonight, they played well and they got us, I don't really know what else I can say."

Farragut advanced to the championship game with a semifinal victory over the host Karns Beavers, which came after beating Holston and No. 2 seeded Vine.

Carter Mayfield scored 20 points and Dillon Atwell added 14 for the Admirals.

Both of those players were named to the All-tournament team.