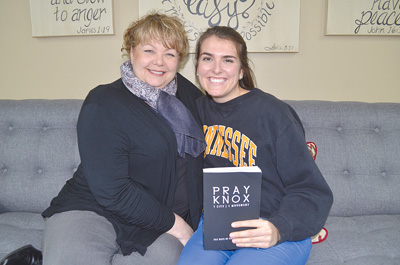 Carol Waldo, left, executive director of Knoxville Internationals Network, and University of Tennessee graduate student Teresa Slade, work in different capacities with the PrayKnox movement. They are holding a copy of the PrayKnox devotional, which has specific prayer topics to target daily.

A city-wide movement, which began in response to tragedy, continues to gain momentum and will next meet at 6:30 p.m., Friday, Feb. 23, in First Baptist Concord.

PrayKnox began last year and grew out of an opportunity organizers saw as they prayed collectively in the aftermath of local and national events.

The church community "came together after shootings and suicides, for example, but we realized we were only getting together when Satan called, and we were grieving," said Carol Waldo, executive director of Knoxville Internationals Network, who is one of many PrayKnox organizers helping facilitate the movement. "We are all willing to come together after a tragedy, but [we thought] maybe we should go on the offensive, rather than the defensive, and come together in a spirit of intercession."

That epiphany fueled what became PrayKnox, described as "a multi-ethnic, multi-generational, multi-denominational prayer movement aimed at unifying the body of Christ for the spread of the gospel and the love of Jesus."

Two key Bible verses have served as cornerstones for PrayKnox: Jeremiah 29:7: "And work for the peace and prosperity of the city where I sent you into exile. Pray to the Lord for it, for its welfare will determine your welfare," and John 17: 20, 21: "I am praying not only for these disciples but also for all who will ever believe in me through their message; I pray that they will all be one, just as you and I are one, as you are in me, Father, and I am in you. And may they be in us so that the world will believe you sent me."

Both tie into one of PrayKnox's key goals listed on its web site: "now is the time to rise up as the people of God and humble ourselves and pray as one."

All denominations are openly accepted and encouraged to attend.

"Everyone is welcome," said Waldo, who added she has been asked if Muslims are welcome, too.

"Of course," she said. "God created us all. They just need to know we will be praying in Jesus' name."

PrayKnox certainly has registered with the community from the beginning. It's first group meeting, held in November, had more than 1,100 in attendance.

"We were blown away with the response," Waldo said.

High school and college-age students have responded to the call as well, as the meetings themselves are student-led.

"We want to use our passion and zeal for the Lord, too," explained University of Tennessee student Teresa Slade, who is a member of that leadership group.

"A lot of times, we don't give the youth the chance to lead, but we have been encouraged by those who have stepped up to serve, and we want to walk along beside them [in support]," Waldo said.

"We have freshmen and sophomores in high school — some are 10 years younger than I am — and they are so bold [in their convictions and leadership] that they inspire me," Slade said.

A devotional/prayer book also has grown out of the PrayKnox movement. The book's 260 devotionals each were written by Knoxvillians from all walks of life, from students, parents, pastor and housewives, to writers, doctors, CEOs and missionaries.

"Each contributor focuses on a specific [Bible] verse and need and also provides a prayer target that every person who has the books is asked to follow," Waldo said.

"All of it is a focus on praying that we can all work toward unifying the body of Christ."

No one person or denomination has taken charge of PrayKnox, Waldo said.

"It is a very organic movement," she explained. "No one person, and no one church leads it.

"We just come together to pray and let God show us His spirit and His will."

Every month has a specific target group. For example, February's target is the international community.

PrayKnox will hold three more meetings in the coming months, with plans to start up again in the fall.

For more information about the organization or to purchase a devotional, visit prayknox.org.