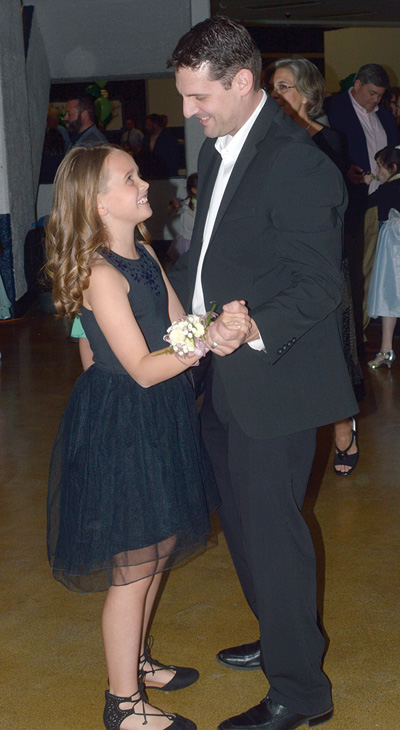 Halle Bennett and uncle, John Bickford, were just two of nearly 500 party-goers at last year's Shamrock Ball.

While many high schoolers anxiously anticipate prom season, a younger set will enjoy a night all their own when the 13th Annual Shamrock Ball takes place March 3.

The event is promoted as a "father-daughter dance," and will be held from 7 to 9 p.m. in the Farragut High School commons area. It is open to all ages, and those attending can enjoy evening of music, dancing and light refreshments.

The dance is a joint effort between Town of Farragut and Farragut Kiwanis Club, and this year's proceeds will be split between Farragut Middle School Band and Kiwanis Club's Teen Driving Roadeo, which promotes safe teen driving.

"We normally raise between $3,000 and $5,000 every year [with this fundraiser] said Farragut Kiwanis Club president Tanya Alles, who heads up a core group of 15 members.

"We do well for such a little club."

Alles has been with the Kiwanis Club for the last nine years, and said the dance is an event she looks forward to every year.

"Everyone always has such a good time," she said. "And everyone is welcome to attend — it is not just for fathers and daughters. Over the last few years, it really has become more [whole] family-oriented."

Sue Stuhl, Farragut Parks & Leisure Services director, was part of the project from the beginning.

"The Town had been interested in hosting a father-daughter dance, and the Kiwanis Club — which I had just joined — was looking for a fundraising project, so that's how it got started," Stuhl said.

"It is such a delightful event to see the dads treating their daughters to such a special night," she added.

"I really enjoy it, myself," said Wendy Smith, Farragut public relations and marketing coordinator. "Everyone has such a good time.

"Many of the fathers will make a night of it and take their daughters to dinner or even rent a limo.

"I know those little girls feel like princesses."

Smith said she, too, had seen an uptick in the event's inclusiveness, as entire families have attended in the past.

Advance tickets currently are available at Town Hall for $20 per couple, or $30 for a family, which includes children, step-children, parents or legal guardians.

Tickets at the door will be $25 per couple and $35 per family. Extra tickets for individuals are $10 in advance or $15 at the door.

Photos will be taken of each couple or family at the dance and will be available for purchase after the event.

For more information, e-mail parksandrecinfo@townoffarragut.org or call 865-966-7057.