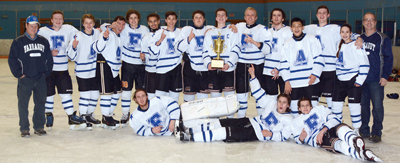 Farragut Ice Admirals players and coaches enjoy yet another Moore Cup championship run after beating the Bearden IceDawgs 6-1.

Kenny Richter showed why he was named Knoxville Amateur Hockey Association's Most Valuable Player Monday night, Feb. 26.

"Kenny did what he does," Farragut High School hockey club head coach Jeff Lindsay said after Richter scored four goals in the Admirals' 6-1 victory over the Bearden Ice Dawgs in the Moore Cup final at Cool Sports Home of the Icearium. "Richter was the MVP of the league for a reason."

Richter's offensive explosion helped Farragut (12-0) complete a flawless KAHA High School season. The Admirals and Ice Dawgs will both play in the Blue Division State Tournament at Cool Sports Saturday and Sunday, March 10-11.

Farragut, which won the state title last year in the Memphis metro area, will look to successfully defend its championship on home ice.

"They are a really good team and I know that we'll see them again in the round robin," Richter said of the Ice Dawgs, who dropped to 5-7-1. "I think there's a good chance that we may see them again in the finals.

"They're the only team that really challenged us this year. We've been to the state and we've won it, but it always feels good to get the chance to go back."

Farragut's Davis Luna scored the first goal when he tallied on the power play with 7 minutes, 53 seconds remaining in the first period. Christian Callahan picked up an assist on Luna's marker.

The Admirals, who outshot the Ice Dawgs 11-1 in the opening frame, took a 2-0 lead on Richter's first goal of the game. Callahan also assisted on that goal, which came with 2:36 remaining.

Richter would score an unassisted goal 58 seconds later to give Farragut the 3-0 lead that it enjoyed at the end of the first period.

"We came out determined and we showed up ready to play," Lindsay said. "They were told before the game that they'd better come ready to play. [Callahan] really showed up. Bearden is a good team and they will do well at the state.

The Ice Dawgs pulled to within 3-1 just over a minute into the second period when Shon Dupree scored an unassisted goal.

"They're just that good. When we got it to 3-1, we thought we might have a chance, but the Admirals are a great team," said Bearden assistant coach Tom O'Brian, who took charge because head coach Mike Raleigh missed the game due to a prior engagement. "Our guys really gave it all they had."

Callahan made it 4-1 midway through the second stanza before Richter completed his hat trick with 5.4 seconds left in the frame.

"We came out ready and we want to go back to state," he said. "We had some new players but we played well this year and we played well tonight."

Richter, who scored his final two goals skating 4-on-4, polished things off with 12:51 left in the game.