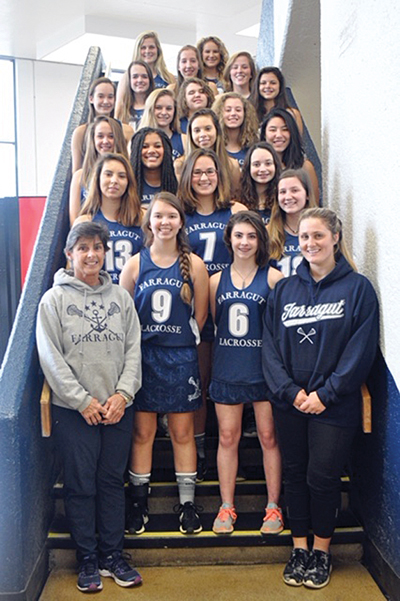 Head coach Holly Kelly, front left, and her 2018 FHS girls team.

Farragut High School's girls lacrosse team is almost a month into its fourth season after enjoying winning records the previous three seasons.

"We are enjoying excellent growth with 42 players on the roster – which now boasts distinct varsity and junior varsity squads," head coach Holly Kelly said. "We have a very young team with 15 freshmen in the program — six or seven are expected to be [varsity] starters.

"I am very fortunate to have an excellent middle school program feeding into the high school," she added. "I give credit to Montana Wright (former Tennessee Volunteers lacrosse standout) for developing the middle school players, which makes my job much easier.

"Additional help is coming from newly recognized assistant coaches Madison Christian and Michael Christian. It is a family affair as Madison's younger sister (Caroline Christian) is a senior on the team, having recently moved into the Farragut area."

Seniors Christian, Haley Wren and Sidney Bachrach, and juniors Carolina Johnson and Chloe Dodson are expected to lead the offense, according to Kelley.

Bachrach recently signed a National Letter of Intent to play at Bryn Mawr College (Pennsylvania), while Wren still is being recruited by colleges. Johnson and Dodson are original members of the Cheetah Club team — the first club team for girls lacrosse in Knox County.

"Freshmen stars Loryn Kelley and Liv Specht and sophomore Julianne Kucera will certainly contribute on the scoring end, and they round out a very strong attack group that will be very difficult for opponents to stymie," Kelly said.

Leaders on defense will be senior Caroline Tabeling, juniors Brooke Office, Jaz Carson and Savannah Collins, and freshmen Corina Coulter, Sassy Montross and Jordyn Velez.

"The three freshmen played together in middle school and they really know how to read each other, and will set a very aggressive tone," Kelly said. "Our goal-keepers, freshman Lili Dase and junior Erika Aguileta, will be very happy to have those defensive players in front of them.

"Lacrosse depends on a strong transition game, and the varsity team is poised to be dominant with freshmen Megan DeFranco and Chelsea Holcomb, sophomore Emily Lin, junior Autumn Nichols and senior Jada Carson leading the midfield line," she added. "Help will also come from Dodson and Johnson.

"What makes this team different from the previous three years are the experience level, the more advanced stick skills and the fact that the players genuinely support each other."

Happy with her team's willingness "to play hard for her teammates," Kelly added, "We definitely have a 'team,' not an 'I' attitude, and I believe this will be reflected in our overall demeanor on and off the field. We also pride ourselves as the team that offers a sportsmanship award to one opponent player after each game. This gesture is the envy of all our competitors."

Other teams in FHS's region, which play a home-and-home series against each other, are CAK, Knoxville Catholic, West Warriors, Alcoa, Roane County, Seymour, Sevier County, Pigeon Forge and Gatlinburg-Pittman.

Top two region teams will advance to the state tournament the first week in May.

Farragut home games are played on the developing lacrosse complex behind Farragut Middle School. For more information about the program, please go to http://www.fllclax.com.

Kelly said her junior varsity team is lead by sophomores Suzy Hill and Mckenna Montross, and juniors Alexa Whitehead and Ava Mckeefery. "Several players are brand new to the sport, but they are advancing nicely and will be valuable additions to the overall growth of our program," she added.