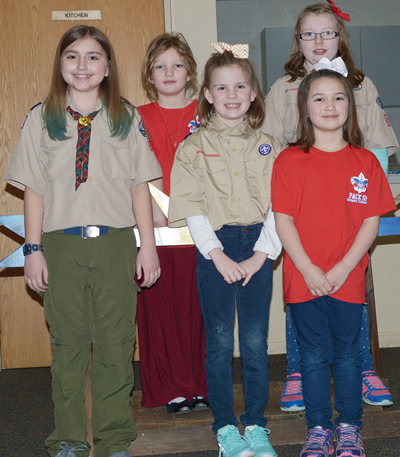 Farragut girls, from left, Libby Renier, 10; Mary Peters, 7; Emma Barkow, 8; Melanie Milliken, 8, and Mackenzie Ordone, 7, earned their first badge, the Bobcat badge, during a Cub Scout Pack 59 meeting in St. Elizabeth's Episcopal Church Saturday, Feb. 10. They are the first girls allowed into Great Smoky Mountain Council, which spans from Cumberland County east to Morristown, and from Athens north to the Kentucky state line.

Five Farragut girls made regional history, showing Cub Scouts is not just for boys anymore.

The girls — Libby Renier, Melanie Milliken, Mary Peters, Emma Barkow and Mackenzie Ordone — officially became part of Cub Scout Pack 59 when the pack met at St. Elizabeth's Episcopal Church in Farragut Saturday, Feb. 10.

"These are the very first girl Cub Scouts in the Great Smoky Mountain Council," Cub master Scott Milliken said.

Melanie, 8, a Farragut Intermediate School third-grader, said she wanted to join Cub Scouts since she was 4 and watched her brother in the organization.

"I was always tagging along to the Cub meetings," she said. "I saw the games my brother played and told my dad I wanted to do it, too."

However, Melanie, who also is a Girl Scout, was told she could not "because I wasn't supposed to."

But after a few years, the rules changed.

"I was still tagging along," she said. "They told me an opening was up and asked if I was still interested. I said 'yes.' I wanted to join Cub Scouts.

"Right now, it's fun," Melanie added. "I think it's an opportunity for girls to do more because a lot of girls can learn to go fishing and camping, and they wouldn't normally get to do that."

Mackenzie, 7, who attends Farragut Primary School, said she wanted to join Cub Scouts because "I can learn how to do things and meet new people."

Her brother, Alex Ordone, 8, is in the same Cub Scout Pack.

"It's really nice because Alex has been in [the scouts] the last few years," said their mother, Monica Ordone. "We really love the values of scouting, and it's very family-oriented. Now, Mackenzie can participate in it, too."

Libby, 10, a Farragut home-schooled Cub Scout, related how she got to take part in a photo shoot.

"They are revising handbooks to include girls," said Sara Thompson, Den leader for the girls' den in Pack 59.

"It feels really good," said Libby, who has a younger and older brother in Pack 59.

"I pretty much have been in it all my life," she added. "It means a lot to [be able to join the] scouts. It's amazing."

The girls' first order of business was to receive their Bobcat rank.

"That is the first rank before [Cub Scouts] could earn anything else," Milliken said.

He explained all six girls have an older or younger brother in the pack and have been showing up at meetings anyway, but the girls could not officially register as Cub Scouts until Jan. 15.

"Cub Scouting has always been a family scouting activity," Milliken said. "And since the girls already were attending the

meetings and participating with their brothers, they were allowed to become members.

"So, their first den meeting with the girls was Jan. 22," she added. "Now, we are able to give girls the same credit as boys."

This fall, the scouts — boys and girls — will break up into separate ranks.

"We already have parents ready to step in," Milliken said.