Galbraith, ex-FMS history teacher, will bring honored Tennesseeans to life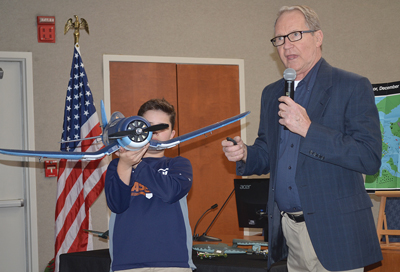 Retired history teacher Frank Galbraith, who spoke in December at his annual "Day of Infamy" presentation in Farragut Town Hall, will be speaking there again Monday, March 5, to discuss the state's famous — and not so famous — natives.

One of Farragut's favorite history teachers will bring famous and notable Tennessee natives to life in an upcoming presentation at Farragut Town Hall.

Frank Galbraith will discuss "Magnificent Tennesseeans: 200 Years of Stories and Songs" beginning at 7 p.m., Monday, March 5.

He will incorporate music with a slideshow covering famous state notables from the political arena, such as former Presidents Andrew Johnson and Andrew Jackson; the entertainment and sports worlds, among them Elvis, Dolly Parton and Pat Summitt; and others who may be lesser known, such as Nancy Ward.

"Nancy Ward is known as the Tennessee Pocahontas," Galbraith said last week. "She was known for saving English settlers twice" from the Indians.

He also plans to share some other historical features that might not be common knowledge, such as the University of Tennessee's first football national championship was in 1951, and then-President George Washington signed Tennessee into statehood in 1796.

Galbraith, who also gives an annual presentation on Pearl Harbor, "A Day of Infamy" at Farragut Town Hall every December, feels a personal responsibility to share what he knows with the community.

"I want us to not forget all these things," he said. "There are so many things today going on that are not good, but there have been many good things that have happened here.

"We have a rich history in Tennessee, and we need to know it and remember it."

Galbraith said he has given the presentation before, but it has been several years since he has done so at Town Hall.

The event is free and open to the public, but Town officials said pre-registration "is appreciated."

It may be accomplished by visiting townoffarragut.recdesk.com.

For more information, e-mail ParksandRecInfo@townoffarragut.org or call 865-966-7057.