NTY to provide community-driven merchandise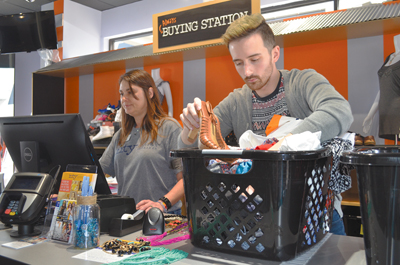 NTY Clothing Exchange Manager Denise Key and store employee Blaine Poole examine prospective merchandise to buy.

Robert and Jen Lebus are bringing a new kind of clothing store to West Knox County — one the community will help by providing an endless supply of merchandise.

The couple opened NTY (New To You) Clothing Exchange in the Lovell Heights shopping center Jan. 15, for purchases only, in a space previously occupied by El Charro Restaurant, which relocated to Sutherland Avenue last year.

NTY is described as a "retail resale store" that will offer name-brand clothing for teens and young adults of both sexes at up to 70 percent off retail pricing.

"I felt the need was there," said Jen Lebus, who oversees the day-to-day operations of the store. "Knoxville doesn't have anything like this."

While not yet selling any clothing or accessories, NTY currently is recruiting inventory for a store opening, to begin selling merchandise, tentatively set for March 22.

"We are looking for clothing that is two years old or newer, and in style," Lebus explained. "We offer cash on the spot — typically about 30 percent of what we will be selling the items for."

The store has three full-time employees well-trained in evaluating what the store will and will not purchase, she said.

The pricing scale is set by the NTY franchise, which only has three other stores nationwide. Other factors that can impact the purchase price include demand, condition and inventory levels.

The inventory will be as pristine as possible.

"No stains, no tears, no pilling," Jen said. "And, we want clothes that are clean and 'rack ready.'"

Brand names will be a big draw, for both buyers and sellers, and can include Abercrombie & Fitch, Aeoropostale, American Eagle, BKE, Charlotte Russe, Coach, Forever 21, Guess, H&M, Hollister, Levi's, Lucky Brand, Lululemon, Michael Kors, Miss Me, Nike, Roxy, Silver, Steve Madden and True Religion, among others.

Apparel items NTY will purchase include shirts, dresses, shorts, jeans and pants, along with a wide array of accessories such as shoes, boots, jewelry, handbags, scarves, coats and jackets.

Robert Lebus, who also owns the Knoxville franchise for Unishippers, has been a small business owner for more than 20 years. He and his wife agreed the business plan for NTY "is a good one.

"The concept is that we buy from the parents, then sell back to the kids," he said. "We want [parents] to buy in.

"[The business] will also appeal to the lower-income demographic, which could not normally afford the name brands we will be selling."

Family friend Adam Scott owns a similar company, Clothes Mentor, which has a older demographic, and Jen Lebus said it was his encouragement that led to their own affiliation with NTY.

It has also led to cross-promotion between the two.

"He has a good following, and we have sent [potential clients to him] and vice versa," Jen said.

So far, NTY has had a steady stream of clientele, but Jen Lebus said more inventory is being sought for the March opening.

Current store hours are from 10 a.m. to 6 p.m., Monday through Saturday, and noon to 4 p.m., Sunday.

However, store manager Denise Key said the times will change once the store is open to sell.

For more information, call 865-286-8559. The business also can be found on Facebook and Instagram at ntyclothingexchange/knoxville-tn.