Gaylor sells mixed-media art designs, home décor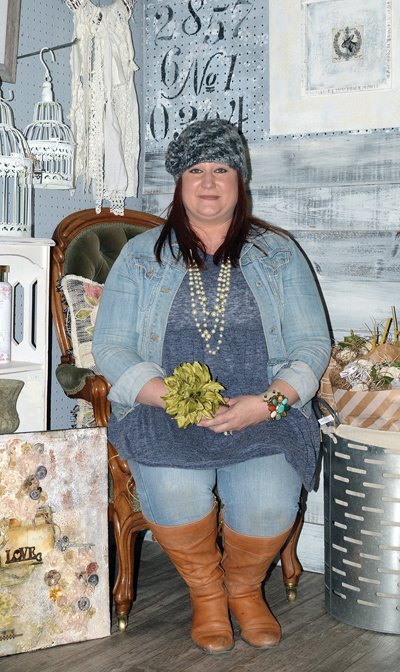 West Knoxville artist Karen Gaylor officially started her business, 57 Butterflies, with a booth in Farragut's Shoppes at Homespun in Village Green shopping center, where she sells her mixed-media art, home décor and barn quilts.

Karen Gaylor has opened her own business, 57 Butterflies, to showcase her mixed-media art designs and home décor pieces.

She is selling her works in Booth G8 of The Shoppes at Homespun in Village Green shopping center, 11523 Kingston Pike.

Inspired by hope and her Christian faith, Gaylor combines various media — vintage lace, buttons and papers, paint and seed pearls, for example — to create her own art pieces, such as a canvas painting or print.

"I do mixed media, and I do folk art and barn quilts," she said.

Gaylor, a Cleveland, Ohio, native, describes her designs as "kind of boho countryish. It's a little shabby chic mixed in with things like dream catchers.

"I love old things, so if it has wear on it and it's old, I'm just drawn to old things and antiques," she said. "In fact, inside my art, I always use vintage papers. I go to antique stores and buy things from 1940s and stuff.

"I love things that have history and mean something," Gaylor added. "[I love to] refurbish them and make a fresh look to them."

Encouraged by her success, Gaylor said she wanted to take that success further, rented the booth at The Shoppes at Homespun and opened Jan. 15.

Along with her art pieces, she has added home design pieces to her booth.

The name of her business "actually has a meaning behind it," Gaylor said. "A few years ago, my dad passed away, and about six months after that, I had a girl who was in my youth group — my husband and I are youth pastors — and she passed away.

"I kind of fell in a really dark place that turned the light off in my heart.

"I went on a bike ride. I was crying. I was just talking to God — it was one of those real moments," she added. "I was telling Him, 'I need you to show me something good. I need to see something good right now. I'm really struggling.'

"And, I had a butterfly fly into my face, and it hit my nose. I just stopped and turned around and looked, and I just saw a cluster of all these butterflies flying around.

"I started counting and I stopped at 57," Gaylor said. "It was just God showing me, 'There's still a little bit of good. You just have to look for it.'

"It brought hope to me," she added. "I think the name [of a

business] should mean something, and my art is inspired by hope."

Although Gaylor has been interested in art for about 15 years, she said she did not delve seriously into the vocation until after she saw the butterflies about five years ago.

She met her husband, a Tennessee native, while attending Lee College, and the couple spent most of their time in Florida before moving to West Knox County two years ago.

"I've been a mountain girl since I moved to Tennessee," Gaylor said. "Even when we lived in

Florida, I longed for the mountains."

She found out about The Shoppes at Homespun while shopping for vintage papers for her art.

"I love Homespun," Gaylor said. "The ladies here just have wonderful hearts. It really is like a family."

More information about 57 Butterflies can be found on her website, 57butterflies.com.