Founder of CCS, long-time FBC pastor 'educated us in the Word'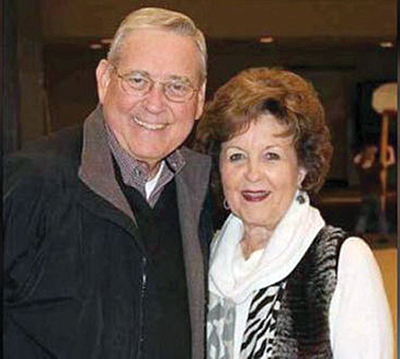 The Rev. Dr. Doug Sager and his wife of 58 years, Faye Sager.

Establishing an impactful ministry at First Baptist Concord during more than 20 years of service as its senior pastor, the Rev. Dr. Alvin Douglas Sager, better know as "Brother Doug," also founded Concord Christian School.

Dr. Sager passed away Saturday, Feb. 24, after suffering a stroke.

He was 78.

Dr. Sager's enormous Christian legacy in the Farragut community will never be forgotten.

"He was well-loved, and was not only our pastor, but he was a friend and a counselor and educated us in the Word," recalled long-time First Baptist Concord member and historian Mona Isbell Smith of Lenoir City. "We just loved him and depended on him so much."

Sager was called to First Baptist Concord in November 1992, spending the next two decades serving the church and surrounding community. The church membership grew and a new worship center was constructed — but one of his greatest legacies is the founding of Concord Christian School.

Mark Kelly, Head of School for CCS, said the preschool program already was operating when Sager came on board. "He was very passionate about the children and was well-known for [leading FBC Vacation Bible Schools]," Kelly said. "They drew thousands to the church every summer.

"But he was so passionate that he realized that one day a week, or a few days out of the summer, just wasn't enough, and he had a vision to teach Biblical principles in the educational system," he added. "So it was his vision that led to the establishment of Concord Christian School."

The school has steadily grown since it opened its doors in 1996, and today serves 712 students in grades kindergarten-through-12.

Kelly has been a FBC church member for 18 years, and also served on staff with Sager.

"His spirit created a culture here where the church and the school was heavily focused on [the] children," Kelly said. "His philosophy was if you are going to affect society in a positive way, you have to raise up men and women to be smart and effective leaders, and our strength has been strong academics with a Biblical world view.

"... He poured that philosophy in me, and I have tried to

apply that in everything I do," he added.

Though Dr. Sager temporarily retired in 2013, God wasn't finished using his skills.

He was called to service at Vonore Baptist Church in Monroe County.

"Since he had been there our membership has probably more than doubled, from around to 250 to 600 on Sunday mornings," said Keith Bookout, a deacon at VBC who chaired the search committee selecting Dr. Sager as its new pastor in July 2013. "We were basically $1 million in debt, and now we're debt-free. And our budget has more than doubled since he came."

Most importantly, perhaps, "We've seen our missions program expand," Bookout said. "We weren't doing any foreign missions at all. But since he came we've sent people to nine or 10 different countries."

A native of Midfield, Alabama, who was called to preach at age 11, Dr. Sager also pastored First Baptist Church of Alcoa, along with churches in Alabama and Louisiana.

Dr. Sager and wife, Faye, had been married 58 years with three children and six grandchildren.

Daughter Traci Sager Robinson announced her father's passing on Facebook: "It seems that God has been calling His most faithful home. We are grieving the loss of our Daddy, Papa, and everyone's 'Brother Doug,' but we are also rejoicing that he is now in the arms of our Lord Jesus Christ."

Hundreds of friends and former congregants posted condolences on Robinson's post. Many credited Dr. Sager with helping them come to know the Lord. "The first time we attended [First Baptist Church of Alcoa], and heard Brother Doug preach, I knew I had found a true man of God," wrote Betty Young. "He will be missed by thousands."

Jamie Schulte Stokely said Sager had not only performed her Baptism, he also had performed her wedding. "He was an amazing, great, Godly man," she added. "He was such an influence on our family and how we raised our children."

A celebration of Dr. Sager's life will be held beginning at 6:30 p.m., Thursday, March 1, in First Baptist Concord. Kelly said CCS will be closed for the day, adding organizers expect upward of 5,000 to attend the service.

Smith Funeral and Cremation Service in Maryville is in charge of arrangements. The family requests memorials be made to Vonore Baptist Church, 714 Church St., Vonore, Tennessee 37885, "a place among many where his life and impact continues," the family stated.