Zaouks share their passion, Golden Rule, celebrating 25 years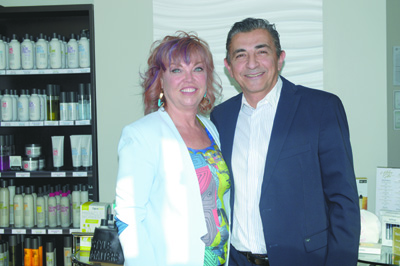 Regina and Marwan Zaouk, owners of Belleza Salon and Spa at 11467 Parkside Drive in Turkey Creek, are celebrating the business' 25th anniversary.

Belleza Salon and Spa owners Marwan and Regina Zaouk share their secrets of success — passion and the Golden Rule — as they celebrate 25 years in operation.

"It just seems like yesterday," Regina said about the company's beginnings. "When you love what you do, you just have a lot of fun and time just goes by."

"We try to do everything the best way possible that we can do," Marwan said. "We treat our customers fairly, treat our employees fairly. I don't think there's any secret in this world — just a magical thing anyone has.

"I think if you love what you do, if you have a passion for it and you organize it well, I think everything else flows right," he said.

Belleza Salon and Spa, located at 11467 Parkside Drive in Turkey Creek, offers hair styling, from cuts and color to texturing and treatments; massages and body treatments; facials; make-up consultations, applications and tinting; and nail services.

The salon and spa also offers something one does not see in many such businesses.

"We have a men's section, here, alone," Marwan said. "They have a separate entrance, separate everything for them. They can come in, get facials, massages, nails and hair, and not be in contact with any females.

"It makes them more comfortable," he added.

Regina founded Belleza in 1993 in the Bearden area with two stylists. Marwan joined Regina in the business in 1997.

Opening a second location in Turkey Creek, "We came here in December 2010," Marwan said. "Turkey Creek has become a very successful commercial area for Knox (County) and the surrounding (community).

"We've always wanted to be in this area," he added. "I guess the timing was just perfect for us. It was the third time we were looking in this area before we made the move.

"I guess we took a chance. We came here in the middle of the economic downturn."

Still, the move proved to be a fruitful decision.

"We had a lot of clients that came from here to the Bearden location," Marwan said. "When Turkey Creek became such a successful shopping area, we stopped seeing a lot of them.

"So, when we came here, we recaptured a lot of our old clients," he added.

"It was surprising because we were looking at how many years we had been in business and we wanted to see how many people have been with us at

least 15 years and longer … we have

had a tremendous amount of people," Regina said.

Since moving to Turkey Creek, the Zaouks said business has been great. "It was a really awesome move for us," Regina said. "We were very [well-] received in this area."

"The first year we opened our Turkey Creek location, over 30 percent of our business came from old clientele," Marwan said.

"It was a great move from the beginning."

"The passion for what we do and just the art of loving on people" are what made the company successful, Regina said. "It's so rewarding to do something for somebody to make (customers) smile, make them happy."

To book an appointment, call 865-558-8424 or visit online at wwwblza.com.