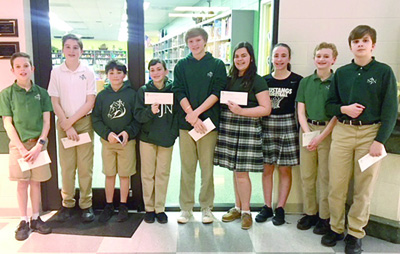 Nine SJNCC students won their schoolwide History Bee competition and participated in the regional competition. From left are Jack Bartlett, James Long, Knox Keener, Sophia Collins, Ryan Preston, Elizabeth Mathes, Kate Pettinger, Paul Liulevicius and Dmitri Kalinin. At regionals, Dmitri, Jack, Paul and Ryan also earned the right to compete in the national finals, which also is in Atlanta.

With two Saint John Neumann Catholic School students recently winning their grade categories at the 2018 Regional Finals of the National History Bee in Atlanta, three others also qualified for the national competition.

"We're excited for them," Janet Harrigan, SJNCS admissions and development director, said about the five who qualified to compete against students from throughout the United States in the national finals June 1-2 in Atlanta Marriott Marquis.. "They are wonderful representatives for our school."

Dmitri Kalinin earned the championship title for the seventh grade, while sixth-grader James Long was named the Elementary Division champion.

"It was really fun," James said. "I had a really good time, and I was really excited when I found out [I won].

"Ever since the national championships last June — every night or so — I've spent about 10 minutes either watching a video or reading a book about history to study for it," he added.

In preparation for the national finals, James said. "Because I want to progress a little bit farther, I'm going to try to up that [effort] a little bit — 15 to 20 minutes each day."

"I was kind of surprised and not surprised," Dmitri said about winning the regionals. "There were a lot of people that seemed way better."

However, when he heard how many names were being announced for the nationals, he said he realized he had a good chance.

To make it to the nationals, Dmitri said, "I like historical strategy games so I played those."

He also brought his books to school to study for the competition during breaks between classes.

Dmitri mostly studies American history "because they were focusing on that a lot."

The scores of seventh-graders Jack Bartlett, Paul Liulevicius and Ryan Preston qualified them to compete at the national level.

"I'm really stoked," Jack said about qualifying for nationals.

He used study sheets to prepare for the regionals — but for the national finals, Jack said, "I'll probably study a little more."

"It feels good," Paul said about qualifying for nationals.

To prepare, he studied from the National History Book, spending about 10 minutes a day during the week and longer on the weekends.

For the nationals, he plans to watch YouTube videos.

"I was honestly surprised I won because when they were calling out who gets to advance, there were a lot of names, so I wasn't sure I was going to go to the nationals," Ryan said about his qualifying effort.

To prepare, he read books from school and other U.S. history books.

"I will probably have to study more frequently (to prepare for the nationals) and read what's actually going to be on the competition," Ryan said.

The five students were among nine who won at the schoolwide level and competed at the regional competition, Harrigan said. Also participating at the regional level were SJNCS students Sophia Collins, Knox Keener, Elizabeth Mathes and Kate Pettinger.