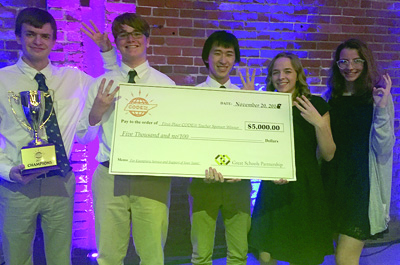 One of five Farragut High School Coding Club teams won first place earlier this year in the annual CodeTN Competition. Winning team members, from left, are Tyler Senter, Tyler Blair, Adam Von Arnim, Cassie Howege and Elizabeth Morris.

While Farragut High School is well-known for producing championship-winning sports teams, FHS also continues to produce champions in academic competitions.

The school has excelled in coding thanks to a push by Knoxville-based CodeTN, which encourages students to learn software design.

For the third consecutive year, a team from FHS took home the top prize in the organization's regional competition, held earlier this school year.

Farragut actually sent five Coding Club teams to the event, five students per team, where they helped comprise the 26-team field from 14 regional schools.

The winning team of Tyler Senter, Tyler Blair, Cassie Howege, Elizabeth Morris and Adam Von Arnim focused on charitable connections for its prototype project, "Common Good."

Team members won $500 each.

"Their work ethic was like at the college level," said FHS coach/sponsor Brandi Finchum, a computer science teacher in her first year leading the Coding Club, which has 25 members. "They worked a lot of hours to make sure everything was right and did a lot of group messaging.

"They were all just brilliant."

Finchum won $5,000, which will be spent in her classroom.

On their own, each team was allowed to choose its topics. Others included study assistance and travel.

Teams worked at least 90 minutes a week on their projects. Finchum said most members also worked many hours outside of class.

Finchum said she was assisted by fellow teacher Judy Siebert, who teaches Coding 1 and Coding 2, and two "tech pros" from the community — Cindy Arnold and Daryl Houston.

"They helped with anything the students needed," said Finchum, who has not yet decided on how the classroom money will be spent.

While the club has concluded its work and competitions for the current school year, it is always looking for new membership, she added.

Hardin Valley Academy and Bearden High School teams also participated.

Last November, CodeTN worked with area schools on setting a simultaneous coding record, which was recognized by the Guinness Book of World Records.

For more information, visit www.codetn.com.