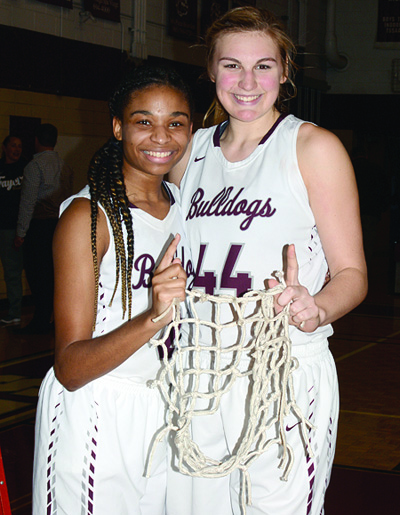 Seniors Trinity Lee, left, and Grace van Rij, celebrate a Lady Bulldogs state tourney trip.

Shooting touch mattered most, especially three-pointers behind the arc, when Jefferson County beat Bearden 54-46 early in the 2017-18 season.

But size mattered most last Saturday night, a huge Lady Bulldogs advantage, as BHS avenged that loss by dominating the paint on both ends in an easy 55-39 home win in Sectional 1-AAA action March 3.

Shaking off an early-season slump, the Bearden program has earned a trip to Murfreesboro and the Class AAA state tourney for the second time in four years.

"In the beginning of the year we all were being pretty selfish, I'm not going to lie," said Grace van Rij, Bearden senior star post who joined fellow senior Trinity Lee, starting point guard, with 13 points each.

"We've learned how to play as a team. ... We've really learned how to get other players open to get better opportunities," she added.

"We learned how to communicate on defense," Lee said. "We're playing for each other, we're not playing selfishly."

Sophomore teammate Jakhyia Davis, emerging superstar in the post, scored a game-high 17.

Other BHS scorers were Shekinah McLaughlin with five, Annaka Hall tossing in four and Tytiaira Spikes adding three.

The Lady Patriots finish 22-11. "I thought they did a great job," BHS head coach Justin Underwood said about his Bearden girls.

Bearden took a 28-7 overall record to Murfreesboro, playing Wednesday, March 7 (after deadline versus Arlington, 27-7). A win in that game would leave BHS to play either state title favorite Riverdale (33-1) or upset-minded Ravenwood (22-11) starting at 10 a.m. CST, 11 a.m. EST, Thursday, March 8.

State title game is 1 p.m. CST, 2 p.m. EST, Saturday, March 10.

Lee was a key contributor on the 2014-15 Lady Bulldogs team, as a freshman guard, that not only reached the state tourney but finish tied for third.

However, reflecting back on Murfreesboro three years ago, "I remember I was more, like, timid and kinda nervous," Lee said.

But during the Lady Bulldogs recent streak of domination, "We're just having fun out there — we're playing loose," she added.