Wright sets two state indoor meet records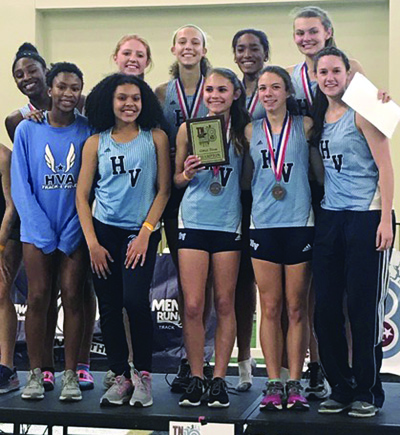 Lady Hawks girls team with its state title plaque.

Coming off a state championship and runner-up finish in indoor track & field, Hardin Valley Academy is sending nine track and field athletes to annual New Balance Indoor Nationals in New York City this weekend.

Three of these HVA athletes have four rankings in the top 12 nationally.

To qualify for this prestigious high school event featuring thousands of the nation's top athletes Friday through Sunday, March 9-11, "You have to qualify based on your performances during indoor (events); they have to be at a certain level," said Bryan Brown, HVA track & field head coach.

"To be an All-American you have to finish in the top six in your event," he added.

Brown's Lady Hawks claimed the state crown with room to spare, besting runner-up Brentwood by 17 points (66-49) at Vanderbilt University Sunday, Feb. 25.

"We won by more than I would have thought. We scored in a lot of events," said Brown, who has now coached seven state champions at the school in girls and boys track & field and cross-country since 2010. "… We were pretty good all day across the board."

Individual HVA girls state champs included sophomore Ellie Bachmann (800-meter run, (2:16.45). Bachmann will compete in the 800 in New York.

Senior Lizzie Davis was state champ in the high jump (5.1-feet).

Hardin Valley girls also won distance medley relay state honors (13:00.99 by Bachmann, Abigale Scheibelein, Kemsi Gray and Madison Grimm).

The girls' sprint medley relay foursome, which also has earned a trip to the Big Apple, are Bachmann, Gray, Timaya Ray and Dominique Romain (best time of 4:11.22; was not an event at state meet).

Romain, a freshman, also has qualified for the 60-dash for freshman at the New Balance nationals (7.85 seconds).

Leading the HVA boys to a second-place state finish was three individual/relay state champions.

In fact, the Hawks 4-X-400 relay state champs — also going to New York this weekend with a No. 12 national ranking — "also set a meet record," Brown said of the record time (3:21.94) posted by Miguel Parrilla, Kelton Gunn, Kenton Bachmann and Willington Wright.

Wright, a senior, also was state champ in the 400-dash with a meet record time of 48.07, also holding a No. 8 national rank heading to New York. He also was No. 1 statewide in triple jump, with meet record of 48.2 feet and a No. 10 national rank.

Other boys top finishers were Kenton Bachmann taking second in the 800 — having qualified for the New Balance with a No. 4 national rank (best time of 1:53.17).

The Hawks also will send its spring medley relay team to New York: Parrilla, Gunn, Bachmann and Nolan Brown.

Other top finishes

The Lady Hawks were second in the 4-X-400 relay (Bachmann, Scheibelein, Sidney Wallace and Gray). Senior Mandy Prescott finished second in weight throw.

Ray, a sophomore, placed second in the 200-dash.

Prescott also scored points in the shot put. Davis and Wallace also added points in the triple jump.

Micah Hayes was second in boys weight throw.