No. 6 for Collier's program girls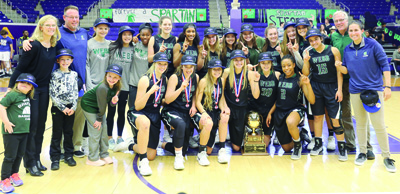 Led by head coach Shelley Collier, far left, the Webb School of Knoxville Lady Spartans celebrate a Division II-A basketball state crown — Collier's sixth in 20 years at the school — Saturday afternoon, March 3, at Lipscomb University in Nashville.

NASHVILLE — Saying she was pleasantly surprised by her team's maturity, head coach Shelley Collier's Webb School of Knoxville hoopsters went from November green, showing cracks of inexperience, to March green with the pride of displaying school colors at midcourt after ulitmate victory.

Though championship game opponent Franklin Road Academy (27-5) "was a really physical team" according to Collier, "in the end we were the tougher team."

The 2018 Lady Spartans earned the program's sixth Division II-A state championship trophy in Collier's 20 seasons at the helm.

Leading 20-19 at halftime, Webb (25-7) took control in the final 16 minutes for a 55-42 victory at Lipscomb University Saturday afternoon, March 3.

Central to the team's growth was "the way this young team bought into what we were doing," said Collier, whose Webb teams also won state titles in 2007, 2009, 2012, 2014 and 2015.

About slowly pulling away in the second half, "We started rebounding better," Collier said.

Casey Collier, star junior guard and the coach's daughter, was named tourney Most Valuable Player. One of four Webb players on the All-tourney team, this Miss Basketball Finalist scored 13 (9 of 12 free throws made).

Catherine Hendershott, freshman post earning huge praise from coach Collier, scored a team-high 15 (9-of-10 free throws made).

Senior guard Haley Luttrell was praised for her "leadership and consistency ... she's averaged 13 to 15 points a game," said coach Collier, as Luttrell scored 13 Saturday. She also pulled down a team-high five rebounds.

Bailey Musrock, sophomore post who joined Collier, Luttrell and Hendershott as Lady Spartans on the All-tourney team, scored six.

Macy Barnes scored six points off the bench and pulled down three rebounds.

Senior Alyssa Brown and Emma Marion also were key contributors Saturday.