Take down Bearden 4-2 in state title game to end season 15-0-0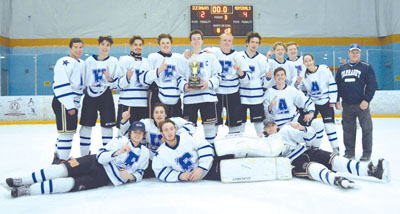 With his happy players surrounding the state championship cup, head coach Jeff Lindsay and his back-to-back hockey state champion Farragut Ice Admirals celebrate Sunday afternoon, March 11, in Cool Sports Home of the Icearium.

Perfection.

That's what Farragut High School hockey club achieved Sunday afternoon, March 11.

The Admirals won the State Cup when they notched a 4-2 victory over the Bearden Ice Dawgs in Tennessee High School State Hockey Playoffs in front of a spirited crowd at Cool Sports Home of the Icearium.

Farragut won three games over the weekend en route to capturing its second consecutive State Cup.

In addition to defeating the Ice Dawgs (7-8-1), Farragut also knocked off Christian Brothers High School, the lone team from Memphis to appear at last weekend's two-day event, and the Knoxville Warriors, a late entry into the field after Germantown (5-10) opted not to make the trip to East Tennessee.

Dominant throughout the season, the Ice Ads (15-0-0)jumped to a fast start by scoring three goals in the first period, including two in a span of 12 seconds, on their first six shots.

Farragut scored first when junior Corey Lindsay beat Bearden starting goalkeeper Mathieu Senechal with 10 minutes, 36 seconds remaining in the opening frame.

The goal was huge for Lindsay, who missed the first half of the season while nursing an injury.

"Getting that goal was a great way to start the game against a good team," Lindsay said. "They are a really good team, and you have to credit them for showing a lot of heart and coming back against us.

"I definitely wasn't expecting that. They really played hard."

Christian Callahan, a junior forward, and Ryan Preiss each were credited with an assist on Lindsay's marker that gave Farragut a 1-0 lead.

The Ice Admirals quickly extended their advantage to 2-0 when Jason Kinneary scored with 10:24 remaining in the inaugural stanza. Davis Luna and Preiss both assisted on that tally.

Farragut went up 3-0 when Davis Eichelberger scored off an assist from Callahan in the later stages of the period.

Meanwhile, Farragut goaltender James Brinkley made two saves in the first period and had six stops in the contest.

"It was amazing," Brinkley said. "We were all hungry and we all came out fighting and we came out wanting to win that second straight championship."

While Ice Admirals eventually earned the program's second consecutive title, it wasn't easy.

Ice Dawgs head coach Mike Raleigh lifted Senechal in favor of freshman Jobe King, who had a stellar postseason run and wasn't scored on all weekend at the state tournament.

Farragut head coach Jeff Lindsay commended the Ice Dawgs and both Bearden netminders.

"Jobe did a great job and their first goalie did a good job too," coach Lindsay said. "He just didn't get a lot of help.

"Bearden didn't quit. We pretty much dominated the game but they didn't quit and they never quit. They have a really young and good team and they're doing a good job building toward their future," he added. "We showed our character and now, we've won two straight state championships."

King made 20 saves after he entered the contest — and didn't surrender a goal to the Admirals. He kept Farragut at bay long enough for the Ice Dawgs to rally.

Bearden scored when Malachi Barigiel tallied on the power play with 10:08 left in the second period.

The Ice Dawgs sliced Farragut's advantage to 3-2 when Will Haney tallied with just over three minutes left in the second stanza.

Jack Ingeneri assisted on both Bearden goals.

The third period was physical and intense.

The Ice Admirals finally put things away when Emerson Southern scored an empty-netter with 36.8 seconds to go.

"It felt great to score that empty netter. I didn't think it was going in because I didn't get a lot on it," Southern said. "But it felt good to secure our second straight championship."

Raleigh said about his team, "We're really proud of them. This was a product of all their hard work in practice and their attitude in games and their attitude as a team.

"They play for each other. They work together and they all did a good job supporting each other," he added.