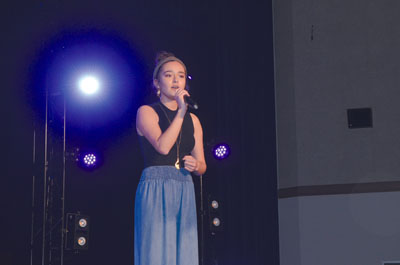 Eventual winner Katie Lin performs during Stars of Farragut competition at FHS Friday, March 2.

Thirteen of Farragut High School's top vocalists competed to become the "brightest star" among Stars of Farragut, a singing competition patterned after American Idol in the school's Vickie B. Wells Auditorium Friday evening, March 2.

Katie Lin emerged as the victor according to the judges. With the field cut in half following the first round, Lin was among three finalists left standing, which also included Heather Bohan and Jesse Pratti.

Lin will go on to participate in Stars of Knoxville, Friday, May 4. That winner will compete in the state event in Nashville.

Emcees were Emily Dodson and Brandon Larose.