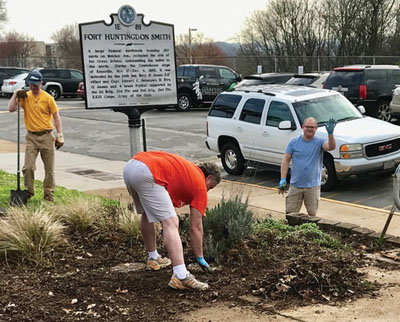 Rotary Club of Farragut president-elect Keith Bryson, right, waves while working on Green Magnet School's flowerbed. He is joined by other Knox County Rotarians.

Flanking the front steps and flagpole at East Knoxville's Green Magnet Academy are a pair of flowerbeds that looked more like weed beds and were not very welcoming.

But a team of hard-working Knox County Rotarians, which included members from The Rotary Club of Farragut, transformed this area into a new and beautiful entrance to the school Saturday morning, Feb. 24.

This project, part of 2018 World Rotary Day workday, included three Farragut Rotarians and a guest — president Chris Camp, president-elect Keith Bryson, member Teri Jo Fox and Eric Whitener, Teri Jo's husband.

The Farragut Rotarians did impressive work on the flowerbeds, along with some help from Ed Anderson, president of the Rotary Club of Knoxville, and a few other Rotarians.

Members from several other Knox County Rotary clubs also came together to work both outside and inside the school.

The 2018 World Rotary Day workday celebrated the 113th anniversary of the founding of Rotary International in Chicago in 1905.

Rotarians also gave the school playground a facelift, planted trees and put down several loads of mulch. Once again, George Wehrmeyer of Bearden Rotary Club led the work. He owns Brightside Landscaping. "I was up at 4:30 [a.m.] checking the weather radar and it rained early, but then it stopped and here were are," Wehrmeyer said.

During the morning, the Rotary Club of Knoxville presented a Paul Harris Fellow to the principal of Green Magnet Academy, Jessica Holman.

Inside the school, some talented "painters" did more than just paint — creating two beautiful murals for this inner-city school.

Also working were Interact Clubs from Austin-East, Webb School of Knoxville and Knoxville Catholic High School.