The search is over in Farragut, West Knox County for a kid-friendly hair salon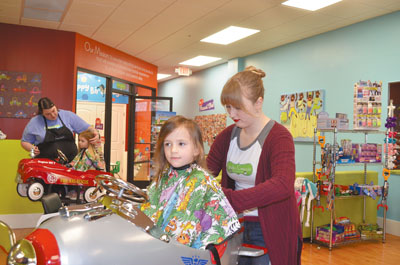 Caroline Koskela, 4, gets a trim from hairstylist Hunter Duncan recently at the new children's hair salon, Pigtails & Crewcuts, in Turkey Creek.

Taryn Smith's search for a kid-friendly hair salon for her own little boy led her to open a shop of her own.

"The first time I took [3-year-old Ryland] to get his hair cut, it was not a good experience," said Smith, who described a scene of tears and tantrums.

The family was planning a trip to Orlando last year, and she decided to schedule the next haircut where she figured there would be better options – and she was spot-on.

"I Googled 'kids hair salon' and found 'Pigtails & Crewcuts," and it was just an awesome experience. I fell in love with it.

"[Ryland] did really well, and went from tears to smiles. It was a good experience for me, too."

A patient and friendly staff, along with a child-centric décor and distractions, created a one-of-a-kind encounter that Smith said she "just couldn't get off my mind," once they returned home.

"It just weighed on me for about a month," she added. "I wasn't looking for it, but I just felt led in that direction, and I thought it was something Knox [County] needs."

Smith's intuition was right on the nose. "Pigtails & Crewcuts" opened Nov. 28 in Turkey Creek, 11063 Parkside Drive next door to the Orick Store.

Smith said the shop has been busy from the start.

She began with "a soft opening," with little advertising or marketing, only relying on social media, pre-schools and word of mouth.

Smith immediately was overwhelmed with the response.

"We haven't slowed down," she said. "And, it has really been exciting to be so warmly welcomed in the community."

Not only have "locals" brought children to "Pigtails & Crewcuts," but Smith said customers have come from all over East and Middle Tennessee, and even from as far away as Kentucky.

Walls and decorations are fun and bright, and stations consist of miniature planes and firetrucks where boys and girls can sit and watch television while their hair is cut and styled.

There is a vast array of toys to keep little fingers and minds occupied, and hungry clients are treated to animal crackers and juice boxes.

Older children take a set in regular barber chairs, and can play X-box and hand-held video games during their appointments.

Pigtails & Crewcuts also offers birthday and event parties, where little princesses can enjoy hair styles, manicures and other activities.

The store also has a cornucopia of hair products, hair bows, glitter spray, nail polish and earrings, as the business also offers ear piercing services.

But having fun is not the only aspect of service at Pigtails & Crewcuts. Smith was extremely picky when selecting the salon's employees.

"All of our stylists love children," she said. "They have great personalities, and are extremely patient and kind.

"Our No. 1 priority is quality," she continued. "We take our time with the kids. We want to give them not only a good cut, but a good experience."

The same kind of patience, distraction and compassion Pigtails & Crewcuts provides its clientele also is a blessing for the special needs community.

"A lot of times, it is a struggle for them (when they get haircuts), and we have really been able to help by providing or avoiding visual stimulation, or offering the weighted lap (aprons), or just (helping mitigate) sensory issues."

They also offer adult haircuts, too, for parents who are unable to schedule separate hair appointments.

"That way, the kids can play while the parents are getting their own haircuts," Smith said.

She and her husband, Chris, already were small business owners before opening Pigtails & Crewcuts:

Taryn operates a recruiting firm, while Chris has a construction business. And, in addition to Ryland, they also are parents to sons, Drew and Gage.

Taryn Smith's franchise agreement includes a total of three stores. She said she is unsure where another Pigtails & Crewcuts might eventually be located: she has looked at sites as close as North Knoxville, and as far away as Maryville and Nashville.

At the heart of Pigtails & Crewcuts is really one mom's solution for a fairly common struggle among her peers.

"I've been there," she said. "You feel judged and embarrassed, but here, it is OK if your kids cry or scream. There is no one here to judge you — we see it all the time."

And, during the process of [clients] coming in repeatedly, it gets progressively easier.

"We want it to be a positive experience for kids and their parents, and just want them to relax and know everything will be alright."

For more information, contact Pigtails & Crewcuts at 865-288-4244.