Fogarty, WWII veteran, finds $20 bill, 'thank you' note left in van handle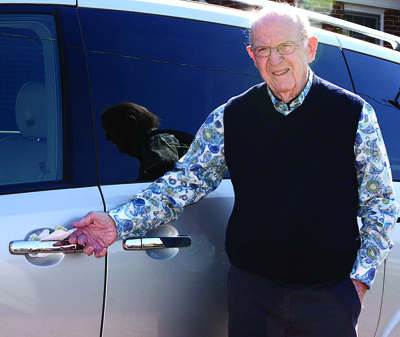 Bill Fogarty, World War II combat veteran (U.S. Army 11th Airborne), recreates how he found $20 and a "Thank you for your service" note in the handle of his Nissan Quest van after dining out at an Aspen Square restaurant in mid-February.

Seeing something in the handle of his Nissan Quest van while out dining at a restaurant in Aspen Square in mid-February, Bill Fogarty of Farragut thought it was a note from an angry fellow motorist.

"I saw paper in the [driver's side] handle. I wasn't parked very good, so I said, 'well, somebody has left me a note telling me to park my car right,'" said Fogarty, a retired World War II U.S. Army 11th Airborne combat corporal. "When I came out I guess it was about 8 o'clock; it was dark."

Instead, it was an anonymous person going one step further with the message of "Thank you for your combat service."

"When I grabbed it and picked it up, I saw the note and a $20 bill on top of it," said Fogarty, former owner of Bill Fogarty's Men's Fashions in downtown Knoxville.

The note simply read, "Thank you for your service, XO (meaning 'hugs and kisses')."

"It shook me up — I was choked up a little bit," Fogarty, a Fox Den Villas resident, said.

"Daddy's a giver, and it chokes him up and it's emotional for him that somebody would take the time to do that," Cindy Maxfeldt, Fogarty's daughter, said. "It's because he's not used to being a receiver. He's so kind-hearted. Just a kind soul — and generous."

The mystery person knew about Fogarty's military service because of the "Airborne 11" and other military service stickers on the back of his van.

"I was stationed in Kobe, Japan," Fogarty said about one of his locations during his two years of service in 1945 and 1946.