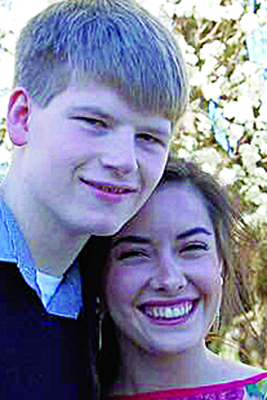 Erika Rennich gives Tyler McNeil a big hug as her date for Prom of the Stars, an event for special needs teens and adults held earlier this month.

Andrea McNeil never dreamed her son Tyler would be able to attend prom, but thanks to a Farragut church with a servant's heart, that is exactly what happened earlier this month.

Tyler was just one of hundreds of special needs individuals who were able to enjoy Prom of the Stars, an annual event sponsored and hosted by Farragut Church of Christ at the downtown Knoxville Exhibition and Convention Center March 3.

Tyler, 16, was born with the genetic disorder, Angelman Syndrome, which has limited his participation in some rites of passage, although currently he is a student at Bearden High School and attended A.L. Lotts Elementary and West Valley Middle schools.

"His cognitive level is pretty limited," his mother said. "He can understand words and pictures, and can use his I-pad."

A very congenial young man, Tyler also communicates with big smiles, hugs and gestures.

Many of his classmates from Bearden also attended the Prom of the Stars, which eased the minds of Tyler, as well as his parents.

"He gets excited, being around people, but he can get overwhelmed, too," McNeil said. "I didn't know if that would be a problem or not; but, after we coaxed him in, he was guided by other volunteers, and when he recognized [his classmates], it was fine."

Since this was Tyler's first year in high school, his mother was not aware of the Prom of the Stars, which has been serving the Knox County area special needs community for the last 13 years. The event, which includes dinner and dancing, is open to individuals 16 and older.

"His teacher [at BHS] was taking a group of students from the school, so I thought we would give it a try," she said.

Family friend Erika Rennich escorted Tyler to Prom of the Stars and said she enjoyed the event.

Rennich and her family, along with the McNeil family, which includes patriarch Martin McNeil and Tyler's siblings Caleb and Jessica, all knew each other as members of Christ Covenant Presbyterian Church. But it has only been in recent months that Rennich began spending time with the family, as Tyler began gravitating toward her at church events.

"He started sitting next to me [at church]… at Sunday school and youth group," Rennich said.

"People he connects with, he connects with very quickly," McNeil said. "He almost always wanted to be where she was."

Rennich's friendship with Tyler and his family also was a natural extension from her work as a peer tutor for special needs students at Farragut High School.

"It has totally been a God thing," said Rennich of her volunteer work. "It helped me learn that I wanted to be a special ed teacher.

"I know that God wants me to do it."

When the McNeils found out Tyler could take an escort, Rennich readily volunteered.

"And it was so sweet that she was able to go," McNeil said. "It was just a beautiful afternoon."

Rennich said Tyler "had so much fun [at the prom] — he really enjoyed dancing."

McNeil said she was touched the Prom was even offered. "It was our first experience," she said.

"It was great, and really impressive. It was really such a sweet event."

Tyler thought so, too. He still points to the prom picture he and Rennich had taken that night, which is prominently displayed in the family's living room. "He can tell you, with that smile, just what a good time he had and how much it meant to him," McNeil said with a grin of her own.