Special Joni and Friends conference April 6-7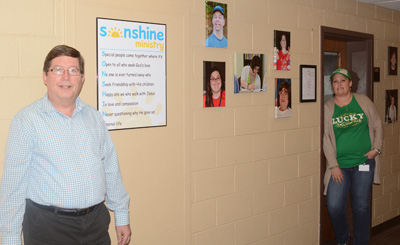 Diane Knudsen, Sonshine Kids and Helping Hands coordinator with First Baptist Concord Special Needs Ministry, alongside Steve Peek, FBC minister of Legacy Building and the church's SNM founder, in a Sonshine Kids educational room in the church's A-frame building.

Before First Baptist Concord's Special Needs Ministries program began in 1991, an overwhelming number of Farragut, Knox County and metro-Knoxville Christian families with special needs children and adults were missing out on worship.

Nationwide, "90 percent of the families who have special needs individuals in their home do not go to church on Sundays. …. They have given up because they have been to places where they said, 'we don't have anybody to help you,'" said Steve Peek, FBC Minister of Legacy Builders who founded the program.

"The sad thing is, there are many churches where if you show up with a special needs child, they will say 'I'm sorry, we don't have a place for them,'" he added.

Looking back, "We started our ministries with three children," Peek said. "Those three were no longer fitting in with the youth ministry … when they moved from children's to youth ministry, they were being left behind.

"And so their parents came and said, 'we need a place for our children to feel loved and accepted and have an opportunity to grow and use their gifts," he added.

"So we started the special needs ministry."

However, "Most of our kids tend to be very high-functioning," Peek said.

Now serving "more than 60 families" according to Diane Knudsen, a ministry coordinator, the impact has been far-reaching.

"People have moved to Knox [County] and they have wanted to find a place for their young adults to be accepted and to have a ministry for them," Peek said. "… We have people who come from Powell, we have people who come from Kingston, Tellico Village.

"We have a way in which your child is made to feel very, very loved and important," he added.

In return, "These kids have so much to give," he added, specifically pointing out their ability to pour out "unconditional love," to bring smiles to the faces of the elderly at area nursing homes.

In early March, "I took close to 25 (FBC) special needs people, our Wednesday night Sonshine Class, to a nursing home in Knoxville, Arbor Terrace [in] Cedar Bluff. We sang hymns, we rang handbells and mainly just loved on the people there," Peek said about Sonshine Ministry, the church's youth and young adults special needs ministry also serving older adults.

Within the FBC Special Needs umbrella is Sonshine Kids Ministry for "elementary age and younger," Peek said about the Sunday morning and Wednesday program.

Overseeing both FBC Sonshine ministries are Dr. Larry Rodgers, a pediatrician in Knox County, and his wife, Linda Rodgers — both are FBC members.

Helping Hands, a weekday program, is where young adults with at least one special need who have finished high school — but also including senior citizens — can give back to either FBC or their community through service.

"We try to find functional jobs for them to do," said Knudsen, Sonshine Kids and Helping Hands coordinator. "… Just recently we completed 400 little Easter basket-type baggies for (Knox Area Rescue Ministries) beds downtown. … To bless the homeless."

Knudsen's Helping Hands Ministry, which started around 2000, currently has 24 special needs participants.

Most of them "are young adults who have completed high school and are going to other churches on Sunday," Peek said, "but they come here to be part of our Helping Hands Ministry during the week."

While most are "in their 20s, 30s, 40s," Knudsen said, "our oldest one just retired. He was 68."

How successful is Helping Hands? "We have a waiting list," she said.

Knudsen, said the overall

FBC Special Needs Ministry serves "a mix" of FBC member families and those affiliated with other churches.

"A majority have chosen to become part of our family here" even though many don't worship at FBC, Peek said.

Much of the church's "A-frame" wing is dedicated to its Special Needs Ministry.

The ministry, which also works closely with Concord Christian School beginning with its fourth-graders, also features "trips to Dollywood, parties, birthday celebrations" among many activities outside of the FBC, Peek said.

"Wherever they go, they make a positive impact on people," he added..

FBC special needs students also get to enjoy a yearly summer camp, Joni and Friends Camp, in Dayton (Rhea County north of Chattanooga). "The thing with we love about Joni and Friends Camp, is we watch our students do things they've always been told they can't do," Peek said. "Like shoot a gun, ride a horse, use the waterslide."

FBC Special Needs Ministry is affiliated with Joni and Friends international non-profit disability ministry. "We are blessed because we have one of the 10 offices where they put people around the United States," Peek said.

FBC Special Needs Ministry, in conjunction with Joni and Friends, will host Joy: A Disability Conference, Friday and Saturday, April 6-7, at FBC.

The event "is a two-day conference to help equip churches to become irresistible to people affected by disability," a Joni and Friends/FBC press release stated. "This conference will help families and caretakers of those with disabilities become more connected and educated."

The conference is broken into three main categories of focus: beginning special needs ministries, established special needs ministries and caretakers.

"We have a couple of people coming from Georgia, and from Florida," Knudsen said. Peek and Knudsen both will lead seminars.

For all of his willingness to grow this FBC ministry if necessary, Peek said, "Our goal is to help somebody else start a program."

Emily Colson, award-winning author and popular national speaker, is keynote speaker.

Other speakers include the Rev. Dr. Bobby McCoy and Christopher Duffy, "a 15-year-old musician and gifted speaker who happens to be blind and living with autism," a Joni and Friends media release stated.

"We're going to make this available at no charge to our parents (of FBC Special Needs program participants)," Peek said.

For more information about the conference, contact Peekat

865-672-1432, e-mail speek@fbconcord.org/ or visit www.fbconcord.org.