Bond out-duels Hagenow in 4-AAA season opener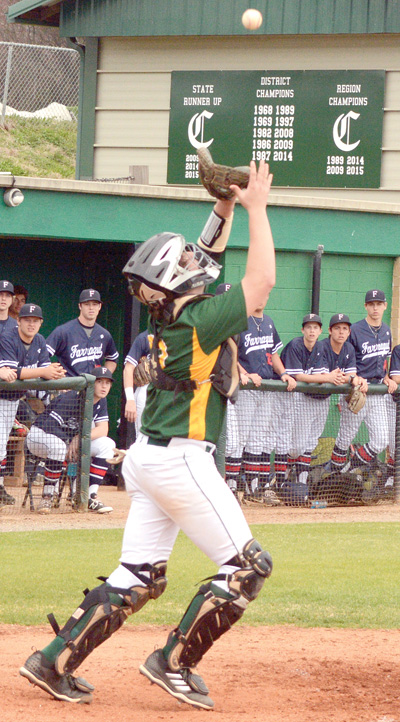 Catholic catcher Tyler Hayes makes a putout.

KNOXVILLE — Farragut High School baseball head coach Matt Buckner was succinct in his assessment of his team's performance in its District 4-AAA opener.

"We played awful," Buckner said after the Admirals came up on the short end of a 3-1 decision to Knoxville Catholic High School before a spirited crowd Monday night, March 19, at KCHS's Gaylor Field. "We have a bunch of guys who think they're pretty good, but they're not."

If one inning seemed to sum up Farragut's night, it was the top of the fourth. There, the Ads (4-3 overall, 0-1 in 4-AAA) had two runners in scoring position and nobody out, only to see Irish senior right-hander Noah Bond strike out the side.

Bond went the distance, allowing one earned run, five hits and two walks. He struck out seven. "My pitching coach (Adam Walker) made this possible," he said. "He called all the right pitches."

The Irish (5-1, 1-0) threatened in the bottom of the first. Rece Harpst singled with two outs and Garrett Lewis followed with a walk before FHS starter Ryan Hagenow fanned Ryan MacDonald to end the threat.

Hagenow couldn't escape in the second unscathed, as KCHS pushed a run across to take a 1-0 lead.

Irish right fielder Brock Hart started things with a one-out single. He would advance to third on a double by catcher Tyler Hayes. Hart came home when Sean Purcell lifted a sacrifice fly to center.

The Irish added two more runs in the bottom of the fourth when Cooper Whitt laced a two-run single with two outs off the glove of Paul Komistek, senior third baseman, and down the left-field line.

"This is the kind of intensity that we're going to have to have if we're going to compete in this district," Irish head coach Caleb Moore said.

Noland, who went 2-for-3 with two doubles and scored the Admirals' lone run of the contest, was obviously frustrated. "We didn't have our best game today, no doubt about that," he said. "But that's baseball and we'll bounce back because that's what we have to do."

Jerry Hammons drove in Noland with an RBI single in the sixth Komistek singled in the fourth.