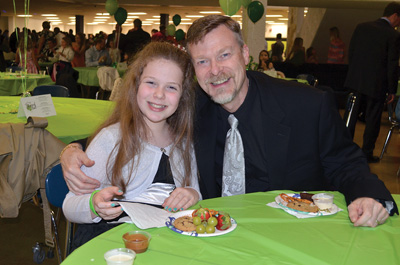 Rodney and Makayla Norwell

Farragut High School commons was decked out in green Saturday, March 3, for the 13th annual

Shamrock Ball, sponsored by Town of Farragut and Farragut Kiwanis Club.

Hundreds of father-daughter duos, as well as entire families, dressed in their finest, and enjoyed a night of dancing, crafts and refreshments, which included an ever-popular chocolate fountain and fresh strawberries.

But dancing was certainly the highlight, as throwback tunes and current-day music kept the crowd moving and singing throughout the magical night.

For more photos from this event, please see Westside Faces in our print edition.