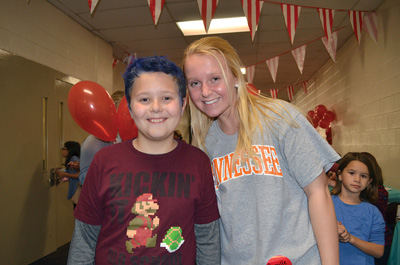 Alec Mathison, left, shows off his "newly blue 'do" courtesy of Farragut High School cheerleader and volunteer, Camille Phillipy, right.

Hundreds of families enjoyed games, food and fun at Farragut Intermediate School Friday, March 2, as the school's PTA hosted its annual Family Fun Night.

Youngsters tried their luck at games of chance; had temporary tattoos, wild hair colors and face paint applied; tried their hands at crafts; and even aimed whipped cream pies at Dr. Christopher Henderson, FIS principal — all in the name of fun and fund-raising for PTA.

For more photos from this event, please see Westside Faces in our print edition.