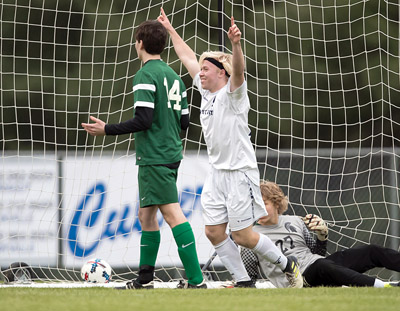 Farragut's Zach Shopovick celebrates one of his three goals in the Admirals' 9-1 route of Webb School Tuesday, March 20.

A home game proved to be just what the Farragut High School boys soccer team needed late last week.

The Admirals notched a key early-season victory when they routed Science Hill 5-0 Thursday, March 22 at Farragut Soccer Stadium.

FHS head coach Ray Dover was anticipating a tight game against the Hilltoppers, who already had notched a 1-0 victory against Bearden in Johnson City Tuesday, March 20.

"We always like to play against Science Hill," Dover said. "They're always a good team and sometimes you'll have to play them to get to state."

But the Admirals took control of the match early when Dillon Bihlmeyer buried a goal in the back of the Science Hill net in the seventh minute of the contest.

"It took us about five minutes to wake up and then Dillon got that goal," Dover said after watching his squad improve to 3-2 on the young season. "This was a pretty good game for us, but we have a long way to go.

"For us at this point, it's all about getting better. We did a good job tonight. We probably won about 90 to 95 percent of the 50/50 balls. And when you do that, most of the time, you'll win the game. The kids really did a good job."

Farragut, which won both the District 4-AAA Tournament championship and the Region 2-AAA Tournament on its way to Murfreesboro and the Spring Fling in 2017, opened the 2018 campaign over spring break by dropping two of its first three matches in the elite Smoky Mountain Cup in Gatlinburg.

The Admirals then played their home opener against Webb School of Knoxville Tuesday, March 20, routing the Spartans 9-1 led by Zach Shopovick's hat trick (three goals).

Farragut kept their dominant play going against the Hilltoppers (2-2-1).

FHS outshot Science Hill 15-3 in the match. The Ads extended their advantage to 2-0 when Shopovick converted a penalty kick midway through the first half.

The Admirals wasted little time regaining control of the game after the halftime intermission.

Bihlmeyer gave Farragut a 3-0 lead when he tallied in the 54th minute. And the Admirals were far from finished.

Wes Jeter scored less than a minute later when he took a pass from Andy Taylor and promptly banged it past Science Hill goalkeeper Abe Adams in the 55th minute.

Farragut's Rivaldo Hill closed out the scoring when he tallied to make the score 5-0 in the 69th minute. Hill's marker invoked the mercy rule and the match was completed with a running clock.

Bihlmeyer said the victory was a team effort for the Admirals.

"I think we just played really well tonight," he said. "We all played really well tonight against a really good team."

The Hilltoppers obviously didn't play their best game against the Admirals on a chilly early-spring night in West Knox County. But Science Hill head coach David Strickland didn't appear too concerned after the match.

"They were just the better team tonight," Strickland said of the Admirals. "They're quick and they have some pretty good players.

"We play [Kingsport] Dobyns-Bennett [this] week and that's the game that really counts," he added. "We feel pretty good about this game. All of my kids got some minutes and that was really a good thing about this game."

Dover also might have gotten a glimpse of what the future holds for his program on this night.

Senior goalkeeper Shane Miller, who stopped a pair of shots from Science Hill, gave way to freshman Max Kaplan, who

also stopped a shot against the Hilltoppers.