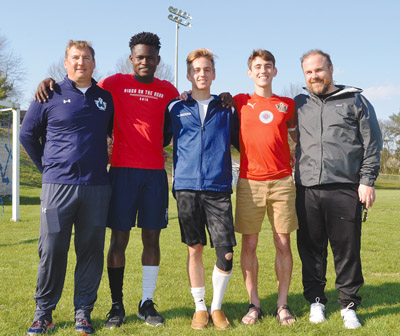 Scott Muir, left, director of Knoxville Soccer Academy, and Ray Dover, right, Farragut High School boys soccer head coach, have coached Admirals soccer stars, from left, Rivaldo Hill, Lathan Roberts and Keith Williams, in various capacities. Hill, Roberts and Williams have been selected by the elite Richmond International Academic and Soccer Academy and will head to Leeds, England, in August to begin studies and play there.

Three Farragut High School boys soccer players are headed to England this fall for a once-in-a-lifetime opportunity.

Rivaldo Hill, Lathan Roberts and Keith Williams have been chosen to attend Richmond International Academic and Soccer Academy in Leeds, England.

They tried out earlier this year in Florida for the program, which holds tryouts all over the country and will only take 95 new recruits. Competitors were judged on soccer skill, but also were required to have a 2.5 minimum grade-point average.

The four-year program offers each player the chance to study abroad and receive an American education, all while playing the sport they love for 10 months out of the year, instead of a U.S. season lasting less than half that time.

RIASA has an estimated 3,000-member student body, and a mix of international students, with Americans comprising the vast majority of the total numbers.

"This is a great opportunity for these kids — I am just really proud," said Scott Muir, director of Knoxville Soccer Academy, where all three boys have played and trained.

"I've known [and coached] them for four years, and they have all been great players. Keith has really put in a (tremendous amount of) work, and his competitiveness will do him well.

"Rivaldo has been a raw talent, and his creativity has been really interesting to watch. Lathan is easy-going but has been strong in accountability and dependability."

Muir said the fact the three were chosen is a testimony of KSA's key mission.

"We train kids, not just teams," he said. "It is more about making them who and what they want to be."

Glasglow, Scotland, native Derek Broadley founded KSA in 2011, capping two decades of national and international soccer coaching and teaching. It began as a training facility but quickly evolved into "a small club," said Broadley, who earlier this year left Knoxville to serve as technical director for Charleston Battery Soccer Club in South Carolina.

Broadley said he, too, worked with the boys from early on and described each one as having very different playing styles.

"Rivaldo is a natural, as it was part of his (Haitian) culture," he said. "(RIASA) will be a great opportunity for him to re-engage in that (mindset). Keith is a hard-working, intelligent player with speed, strength and stamina … Lathan has worked hard, too — he's very bright and intelligent.

"Each of them will have their challenges, but this program will be ideal for each of them and will be able to fit all their needs."

Roberts, who is the son of Kimberly Roberts Shelton and John Roberts, said this next step is "exciting," even more so as the three already know each other so well.

"It is exciting that these three American boys (from Farragut) will be part of that (program)."

Roberts added he does not see this chance as a stepping stone to professional play, rather seeing himself on a sales or engineering career path.

"Part of the reason (I want to do this) is that it distinguishes you," he continued. "How many people will be able to say they were part of a program like this one?"

Williams, son of Stacy and Rob Williams, is homeschooled, and this is his first year playing for the high school team.

He said he is "super-excited" about the chance to play in England.

"[To play there] is every soccer player's dream," he said. "It will be an opportunity to play at the professional level.

"And, my family is excited that I am going to be able to do what I love."

Hill was adopted from Haiti almost four years ago and is the son of Melissa Hill and Norris Hill.

He has been playing soccer for eight years, and said he, too, "is very excited about going (to RIASA)" and has his sights set on "going pro all the way."

Roberts' mother said RIASA "is a great opportunity for them. They all live to play the game.

"They will be able to play and get a degree, even if they are only there for two years, they will have an associate's (degree)," she said.

"In the grand scheme of things, this will make them all stand out, and make them more marketable (in the future)."

Shelton said she also is pleased the trio will be able to travel Europe, both as competitors and visitors.

Ray Dover, FHS boys soccer head coach, said he is excited for the boys, too, and has high praise for each of them.

"Keith is new to me — this is his first year (playing for the high school team), but he is a good guy, works hard and has a lot of speed.

"It is Rivaldo's third year. He is a great kid with a great heart. He has the joy of a younger kid but the intensity of an older kid.

"And, Lathan is a hard worker and has a good attitude. He has really stepped up into a leadership role [this year]."

Dover already had made plans to travel to Europe next year, and said he "can't wait" to see what Roberts, Williams and Hill would have learned by that time.

The trio will be leaving for England in August.