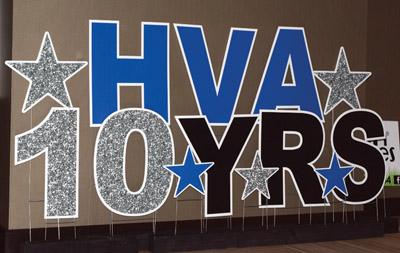 Hardin Valley Academy's "Rhapsody in Blue" celebrated the school's first 10 years of success in academics, arts and athletics, at The Venue in Lenoir City Saturday evening, March 24.

Principal Sallee Reynolds, joined by husband and fellow principal Michael Reynolds (Central High School), and other HVA administrators, teachers, coaches, employees and alumni (with family members) enjoyed an array of food and beverage selections while reminiscing in spacious "Hawk-themed" Lakeway Ballroom.

At 40 minutes past each hour, emcee Kevin Crateau, HVA Foundation president, presented a list of school accomplishments — by category — with the help of an administrator or teacher. Jeannine Fuller & the Boys provided musical entertainment.