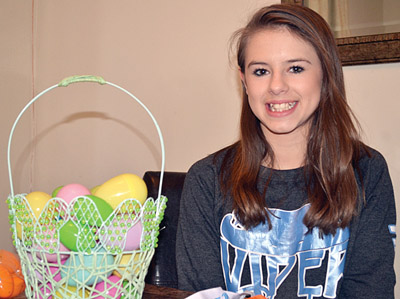 Bailey Lumen and plastic Easter eggs she is using to fundraise for a cheer competition in Orlando.

A Farragut Middle School cheerleader is offering to "egg" houses for Easter, all for a good cause.

Eighth-grader Bailey Luman will stuff and hide Easter eggs for families in the Farragut area, attepting to raise funds to compete in May at the Varsity All-Star Summit Championship as a cheerleader with Viper Sharks of Premier Athletics.

The egg hunt is a unique fund-raiser, but one that will fill a need for parents who have run out of ideas on where to hide their children's Easter eggs.

Already, Bailey has been contracted to work with eight families during the upcoming holiday weekend.

Cost is $25 for 25 eggs, $35 for 50 eggs and $65 for 100 eggs. Bailey said she can take on up to 10 additional customers.

"I can hide the eggs either the night before Easter, or the day of, really anytime [this] weekend," said Bailey, who also is excited about playing a part in the "surprise element" of egg hunting.

Bailey, one of two captains on the FMS squad, has cheered since she was 5 years old, and competitively for the last six years.

Her other team, the Viper Sharks, is an 18-member co-ed squad that will be competing with more than 900 teams from all over the world.

The team won a competition earlier this year in Atlanta, and this will be the second year in a row it will be competing at the Summit.

"It's a pretty rigorous competition," said Bailey's mother, Chyrl Dixon. "On that first day, you have to make the top 10 or you don't compete the next day."

While working toward the Summit, Bailey also is looking forward to Farragut High School cheerleading tryouts.

She said she hopes to be able to cheer at the college level.

For more information on the Easter Egg fundraiser, contact Dixon at 865-307-5086.