FHS junior Whitener forms bond with TV star Winter, movie legend Reynolds in locally-filmed movie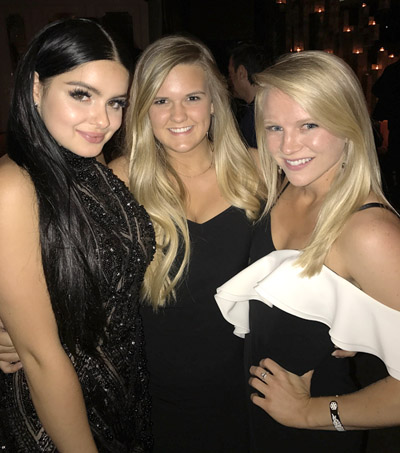 Molly Whitener, center, and Macy Whitener, right, with "The Last Movie Star" leading lady Ariel Winter at Tribeca Film Festival.

Thanks to her relationship with Farragut High School junior Molly Whitener, co-star Ariel Winter from the hit TV show "Modern Family" got to fulfill a lifelong wish and finally ride a horse while visiting the Whitener family farm.

Thanks to roughly $2 million in funding spearheaded from Molly's father, Gordon Whitener, motion picture legend Burt Reynolds got to play a role close to his heart as an aging movie star — while filming in the Knoxville metro area.

This FHS family became heavily involved with the independently produced movie "The Last Movie Star," filmed in the spring and summer of 2016 and starring Reynolds, co-starring Winter and also featuring famed comedian-actor Chevy Chase.

This experience has kindled Molly's ambition for an acting career — playing a small role in the movie while developing a close relationship with Winter and getting to know Reynolds well on set.

"This is our first movie. It's really new, but it's really fun," Molly said.

"At first I wasn't quite sure about him [Reynolds]," she added. "But our dad, like, made us watch some old movies and we really realized how, like, big of a star he is and how talented he is."

With Molly and her mother, Susie Whitener, joining Gordon last Thursday, March 22, for the Hollywood premier of "The Last Movie Star," the FHS junior also visited Pepperdine University with the goal of being accepted into a school known for developing Hollywood acting talent.

The Knoxville premier of "The Last Movie Star" begins at 7:30 p.m., Thursday, March 29, at Tennessee Theatre.

About her interaction with Reynolds, Molly said, "All the time. We hung out with him a lot because my dad and Burt became very close, so he spent a lot of time around our family."

Molly's brief role, with one speaking line, was as a "nerdy" fan of Burt Reynolds' character at a film festival, which was filmed "at the former Longbranch Saloon" on The Strip along Cumberland Avenue, Susie said.

"I was so nervous, I was shaking. I had to go up and, like, talk to Burt Reynolds in the scene," Molly said, "And I didn't know how he would react or respond.

"It went really smoothly. … We probably filmed it, like, three or four times," she added. "Obviously, he is amazing."

During breaks, "He would have, like, banter with me," Molly said. "That was super cool, to have him joke around with me. … 'Are you married? Do you have a boyfriend?'

"He was always flirting with the girls," Susie said. "He was the same charming Burt from 30, 40 years ago."

However, "He's the consummate gentleman; always encouraging, always complimenting everybody after every scene," she added.

About Winter, Molly said, "She is amazing. She's super fun and super sweet.

"She spent a lot of time with our family, with me and my sister, especially because she lived here for a month and she didn't know anyone," Molly added.

Moreover, Ariel "has spent a lot of time at our farm with us," Susie said. "Wanted to see horses and ride horseback — something she had never done."

At UCLA, "Ariel goes there and she's going to give Molly a tour … she's a freshman there right now," Susie said.

Molly evaluated seeing herself in the movie.

"I've watched a lot of interviews with actors and stuff, and they say, 'every time I see myself on the screen I think, oh why did I do it like that,' and that's kind of like how I felt. I thought, 'there's so many different ways I could have done that,'" Molly said.

However, "It was really cool — and surreal, I guess," she added. "It was cool to see the final product."

Molly and her family were "finishing up a tour here at Pepperdine University" in late March, Susie said.

"This is a big reason why I want to go to school in California, so I will be able to have auditions and things like that," Molly said.

Taking her educational experience one step further, "She wants to go overseas and do a [student] exchange, and really wants to pursue more theater as a minor out here in California," Susie said about her daughter.

"I would love to be an actress … acting is definitely something I want to do; that would be my No. 1 [choice]," Molly said.

"But that is a very competitive field to go into, so I'm going to college and do something that's business-related so I have, like, a back-up and fall-back plan," she added.

Pepperdine's business school "is top 50 in the nation," Susie said.

The family was scheduled "to go look at UCLA" in late March, as a back-up plan if Molly is not accepted into Pepperdine.

"I've been working really hard to try and have the [grade-point average] and ACT score for that because it is very difficult to get into," Molly said.

Two of Gordon and Susie's other four children, Macy and Maggie, also had small roles in the movie.

Other area "extras" in the movie, Suzy said, included Henry Tanner, an eighth-grader at Christian Academy of Knoxville who played "a young Burt, where Burt flashed back to his childhood."

Also included was "extra" Rachel Liske, a 2015 FHS graduate. "She was an extra in the wedding scene that we filmed at Cherokee Country Club," she added.

Whatever recent notoriety has come to the Whiteners lately, they haven't lost an appreciation for things local.

"We're tremendously honored to be part of the Farragut school community," she said.

Molly's other siblings not part of the movie are James Whitener, 25, and John Whitener, 23.